How long have you been interested in studying the Greek language? How old were you when you began?  I have been interested in the Greek language for eleven years, since I was three years old. I became interested through reading the Greek myths in a wonderful work by a husband and wife author-illustrator team, Ingir and Edgar Parin D'Aulaire. Those pages made the myths alive. When I was a little older, I liked to pretend I was Iris, Goddess of the Rainbow, and a messenger from Olympus to Earth. I would take messages from my dad, who was working in his office on the third floor, to my mom, who was in the kitchen or the garden.
From there my interest has grown.
What is the most difficult part of studying Greek? Of studying Latin? What are the most fun aspects?
For me, the most difficult part of studying Greek — now that I know the alphabet–is remembering the grammar. That is the same for Latin. The most fun parts of studying both languages are those moments when sentences just click and I can read along without struggling. I love that!
ORIGINAL VERSION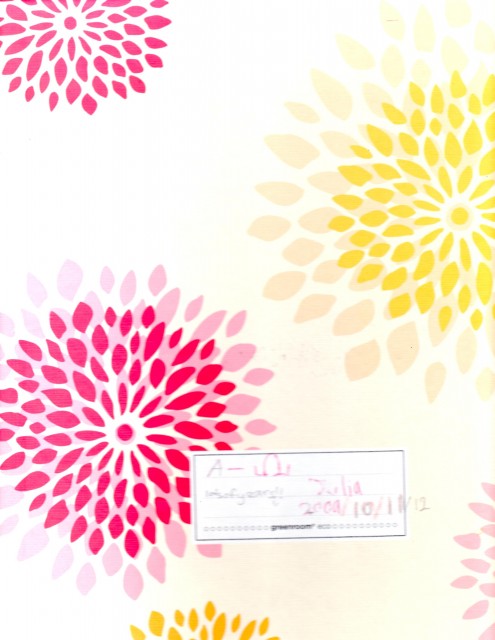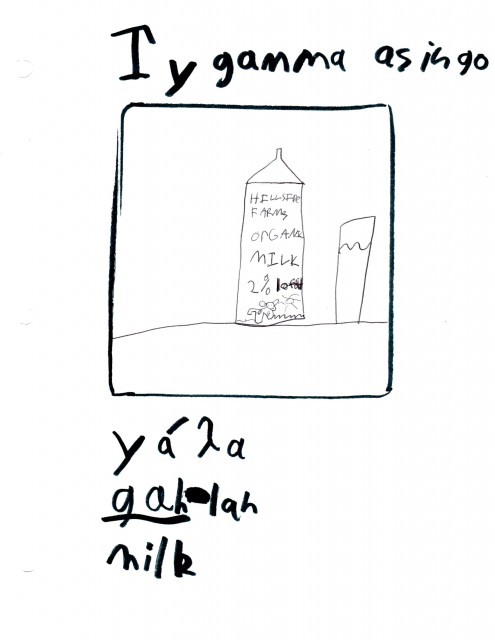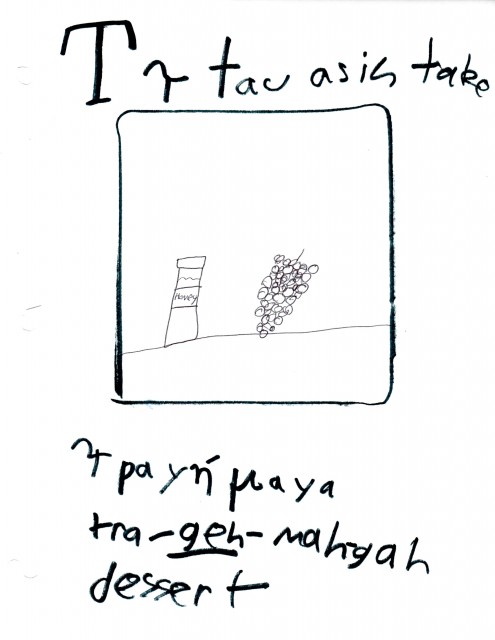 Do you think other kids would enjoy these subjects? Why? Are these subjects useful as well as enjoyable?
I think lots of other kids enjoy Latin, and a few others enjoy Greek. It is true that all the memorization takes time, but studying Classical languages definitely puts one in a better place to understand ancient peoples, as well as the way Classical ideas are still very much part of the modern world. These languages are definitely useful, too. Once you know them, you see what a large percentage of English words come from Greek and Latin. It is really fun to recognize derivatives of ancient words. If you recognize the root, you have a good chance of figuring out a word you have never seen before. This happens most often in science and medicine, but also in law and other fields like linguistics and literature. It is estimated that about sixty percent of English words have Classical roots. In the sciences, it is about ninety percent.
How did you begin this book? Why did you decide to do it?  How did you come up with the concept and the title? Can you describe the process?
When I was beginning to learn Greek, my mom looked for a children's book to get me started. There were lots and lots of things in Latin which shares the English alphabet (see the Winona Media Latin resource page for my favorites) but she couldn't find anything for Greek. I was surprised! (We now also have a Greek resource page.)
And I was disappointed. I said, "Why don't they make a picture book for Greek?" My mom did find a chart of the Greek upper and lower case letters. I ended up learning then largely by leaning the chart against the bathroom mirror and saying them silently while I brushed my teeth.) But I just couldn't believe that there wasn't a picture book. Finally, Mom, said, "Maybe 'you' are 'they'. Maybe you are the one to write this book."
I started the first draft in 2009, when I was nine. It seemed like a picture book would be a good way to introduce other kids, especially younger kids, to these different letters. And, at that time, I loved to draw. The title was basically a way to emphasize Greek's prevalence in our language. There are abundant alphabet books for kids in English, and the word "alphabet" comes from the names of the first two Greek letters.
I decided to give one word for each letter. Each word had to be something I felt confident drawing and something that would have been recognizable to ancient people. For example, I had originally picked the word for "milk", and drawn it as I thought of it–poured from a carton! When I realized that milk cartons are thoroughly modern, and thought of the difficulties of drawing milk (as opposed to another liquid, such as water) I chose another word. All the drawings have been revised over the years (some several times). My family even took drawing lessons one fall with a tutor so that I could learn some new-to-me techniques like perspective, creating shadows, and cross-hatching.
The drawings are in black and white. These were less expensive to print this way, and they can be copied and used as coloring pages. The longer a student spends on the page, the more chance the information will just be absorbed easily in a fun way, without actively studying.
SKETCHES FOR REVISED DRAWINGS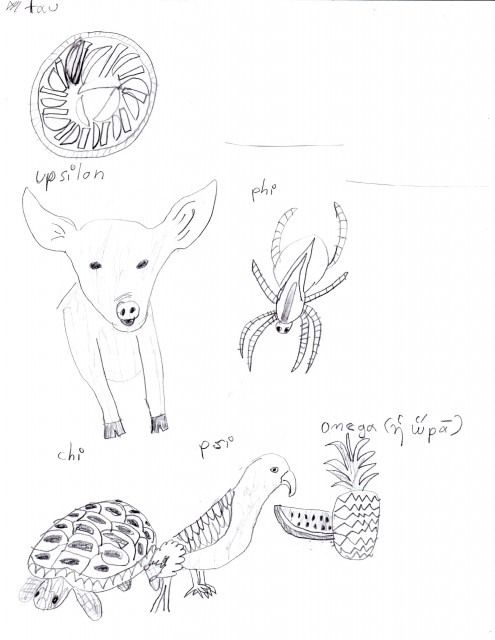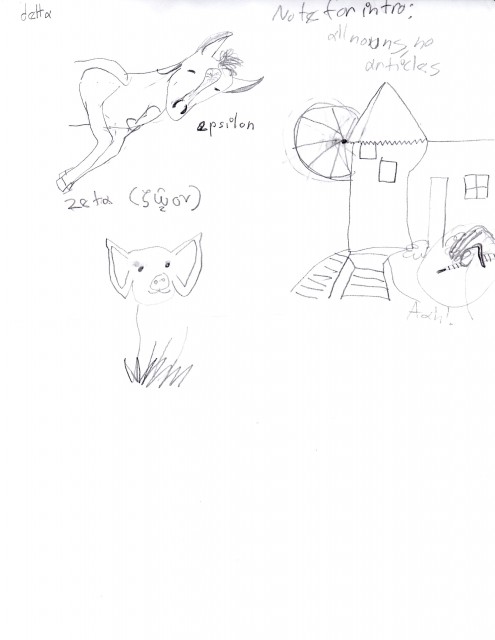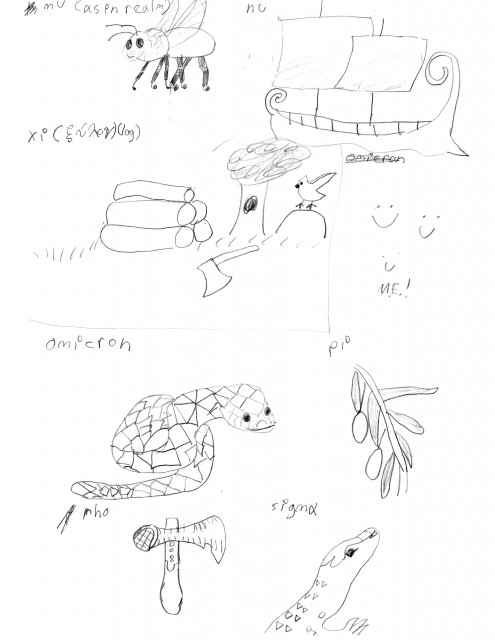 Another challenge was to figure out how to type the Greek letters and include the accents and breathing marks that Greek requires into a Word file. Overall, since I didn't know what I was doing at first, everything took a long time, but I learned as I went. As you can see, I think the overall result is better because I took the time to revise.
Who is your target audience?
Anyone new to Attic Greek! I hope it will appeal to kids, but I also hope some adults will think it is a fun way to learn.
SECOND VERSION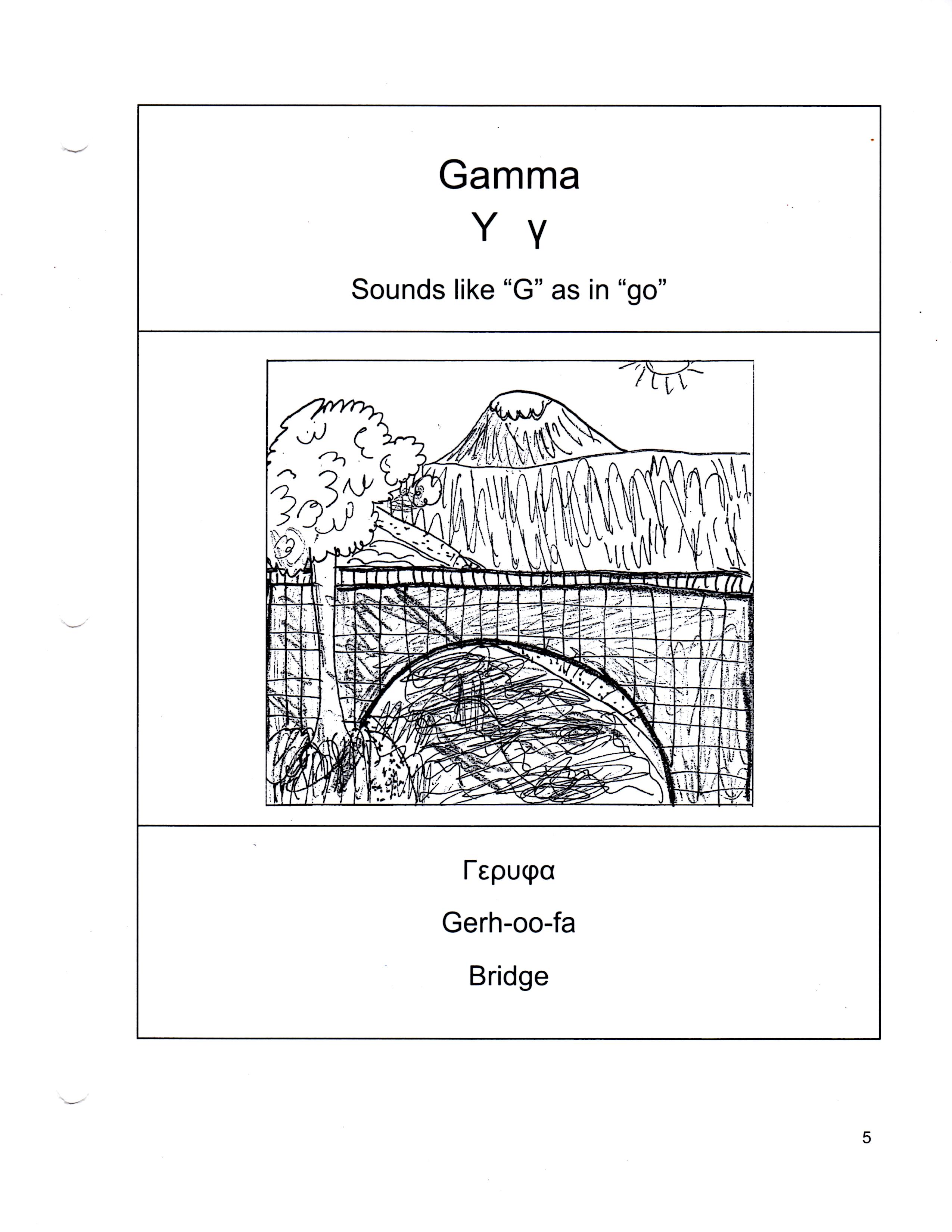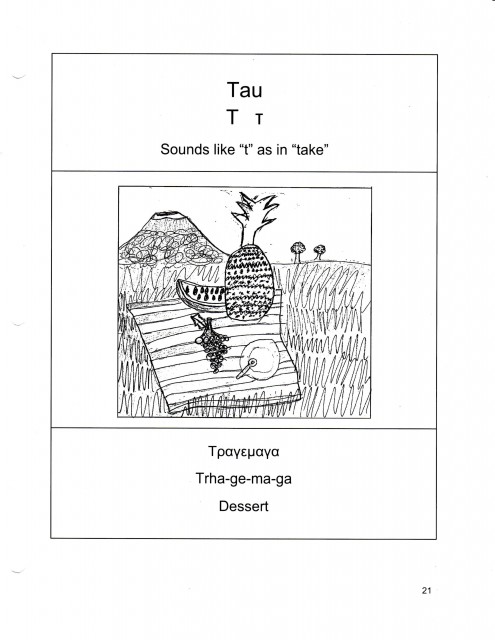 Did you do all the work yourself?
Many people helped me! It is amazing, when I stop to think about it, how many people helped me gain skill or confidence.  Rafael Estrella helped me improve in my drawing ability. Professors Anne Groton and Christopher Brunelle from St. Olaf College helped me find my wonderful tutors, Collin Moat, and David Estle. And Professor Groton also was very encouraging of this book. She even took it to a conference of Classics educators in March 2012 and asked her colleagues to fill out surveys. Those surveys helped me a lot as I moved from draft two to the final draft. Of course, I want to thank everyone who filled out the surveys, with three in particular: Professor Bill North of Carleton College (who has helped in a multitude of ways and who also gave me a copy of Harry Potter and the Philosopher's Stone in Greek); Dan Menken, who encouraged me not to give up on incorporating breathing marks; and Aleka Pitsavas Wakely, who was full of enthusiasm and good advice, and who suggested some good alternatives to selected words. Also, I need to thank my dad, who helped me scan images, design the page, and wrestle with lulu.com's conventions to get a cover I like; and my mom, who believed in the concept from the beginning.
FINAL VERSION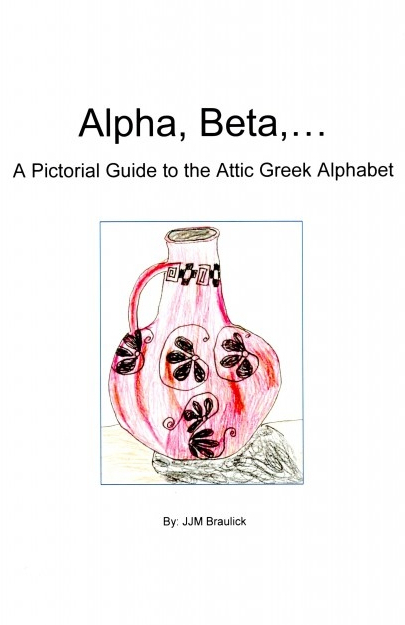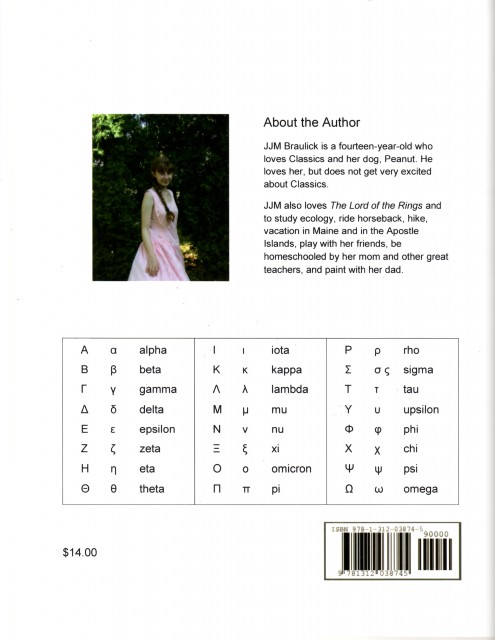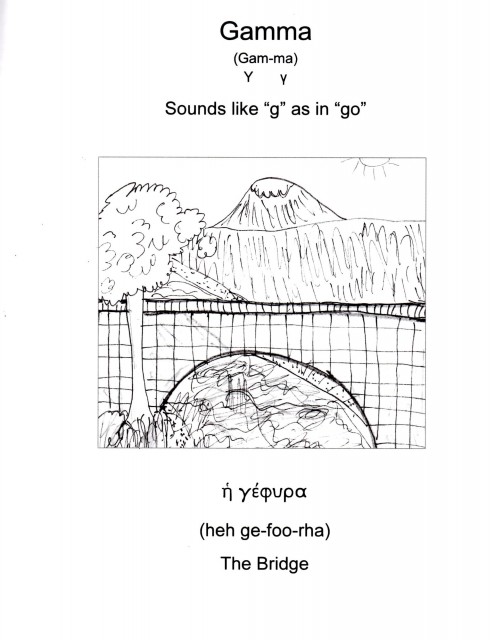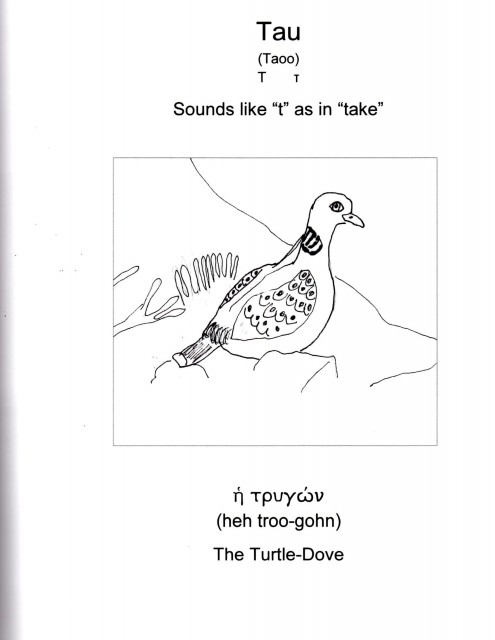 Do you have a favorite Greek letter? A favorite Greek word?
I like all the Greek letters. If I had to pick one favorite, it would be "ζ", or, "zeta". I just couldn't pick a favorite word. I would love to know, however, what other people think.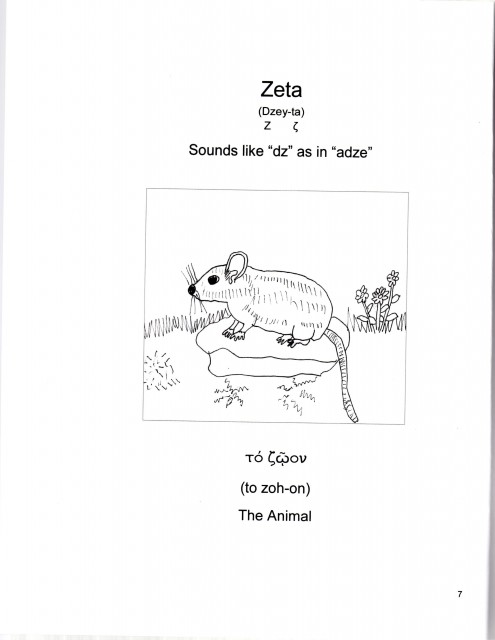 How can people get a copy?
Copies are available on lulu.com, at Monkey See, Monkey Read in Northfield (or online; they also carry The Howling Vowels and And Sometimes Y; these copies are autographed), and, if you would like a personalized copy, please send me an email request.
Thank you!