My name is Leslie Schultz, and I am a lifelong artist.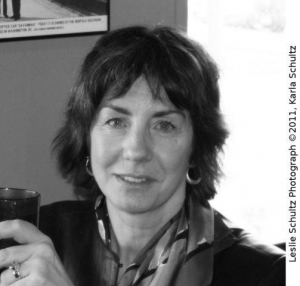 Art is where I find meaning, enjoyment, and a sense of accomplishment. Art expresses the depths and insights of life. I was a bit lonely as a child because my family moved often. (Once I attended four different schools in the same year!) I made friends and I had a home, but I longed for a home town, where I could really get to know people and they could get to know me. As a grownup, I found my home town in Minnesota and I have put down roots here.
I've always loved books. As a child I especially loved the work of Laura Ingalls Wilder and Maud Hart Lovelace. They still inspire me! The Howling Vowels in closely connected to the literary characters of my past and to my own longings. The Ingalls family was always moving to a new place, while Betsy and her family stayed put in a smallMinnesota city. Both sets of stories celebrate the drama and fun of everyday life, family life, and the rising and falling action of the year. Using the details of the seasons and seasonal work and play, these stories illustrate the importance of having a circle of family and friends.
Readers often become early writers. That was true for me. I wrote my first book of poems in 3rd grade; I was first published poetry and fiction in high school. I earn my living as a writer, and I continue to write for the sheer joy of it. In addition, I love to take photographs, and in the last decade I have begun to exhibit and sell my work. I'm still amazed at the subtle connections between images created with words and images caught with the camera.
I wrote The Howling Vowels because, among all the books I loved, I could not find a book of fiction that closely mirrored my daughter's experience as a home-schooled child with vast interests. So, I created characters for this story. Now, she and I are working together on a sequel to TheHowling Vowels. Finding where I belong has been one of the great adventures of my life. I wanted to share the sense of excitement, challenge, and growing confidence that I felt as I came into my own.
Homeschooling is different for each family. For our family, it started out as a very daunting prospect, but it has turned into a dream come true. We spend a great deal of time together, work harder than we ever thought we would, and explore ideas from the Classics, from our daily experiences, and from our imaginations. Our version of home schooling, with a focus on academic rigor and wide-ranging topics, has helped my daughter (and her parents!) to realize more of our potential. And it is so much fun to learn together!
Click on the image below to read an interview with Leslie titled, The One…The Only…Leslie Schultz.