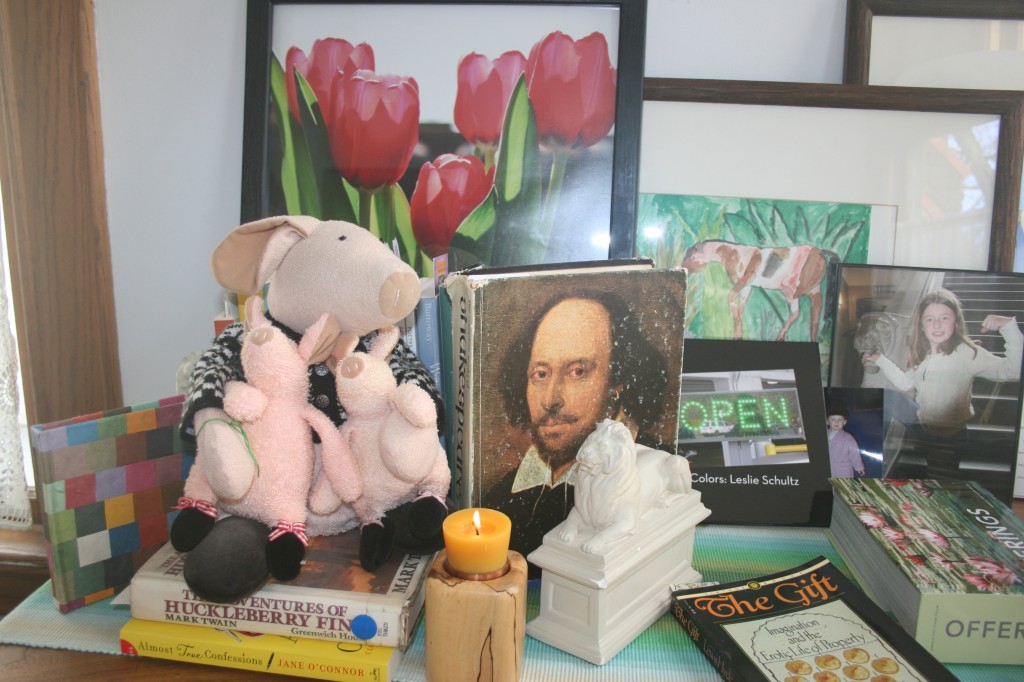 I had a very different plan for today's post, until Monday, when the national holiday (Veteran's Day) focused on remembrance caused me think and think about  my departed friend, Ryan. I met Ryan in 1988 when we both worked for the Guthrie Theater's development office. Often she would join Tim and me for a Saints baseball game or for dinner (several times Thanksgiving dinner), and she and I would discuss books, go for walks, and work on free-lance projects together.
She moved away to Washington D.C., then contracted early onset Alzheimer's disease in her early fifties, and died two years ago. This year, I wanted to share a little of her spirit and zest for life with you.
(All the photos of objects are things that Ryan brought into our lives.)
Ryan contained a wonderful mix of seemingly contradictory qualities. On the one hand, she might be the most introverted person I've met, and yet she expressed a theatrical flair few can claim. Ryan knew sadness and self-doubt, but she exuded joie de vivre and bonhomie.  She was quiet but also quite a riveting story-teller. She loved high tea– and baseball. (Her cat, adopted as a wee kitten while she was a student at Bryn Mawr College, was named Thurman after famed Yankees catcher Thurman Munson). Animals sensed her gentleness and gravitated to her, but Ryan had a sharp and witty tongue. She had a fierce intellect, an encyclopedic knowledge of Shakespeare's plays (indeed, of theater in general, of many categories of genre fiction, of baseball and other arcane areas of knowledge!) but she could be dreamy often. Ryan had a strong work ethic and great efficiency and professionalism, but she never–I mean, never–forgot what it was to be a kid.
When I think of Ryan, I think of places and things she loved: her apartment with walls lined floor to ceiling with books; the Eloise Butler Wildflower Garden, the Malt Shop Restaurant (both in Minneapolis) and Madeline Island in the Apostle Island archipelago near Bayfield, WI; the green leather gloves she splurged on–gauntlets, really, suitable for a stylish lady falconer a thousand years ago; Häagen-Dazs ice cream and Dove Bars; a glass box of ticket stubs from plays and other events; stacks and stacks of books; her beautiful calligraphy and collection of writing implements; her precision with grammar and punctuation, and her innate sense of style. Of all the days to exit this world, it is suitable that Ryan would do so on 11.11.11.
Because of Ryan, I have:
walked around Lake of the Isles swinging antique wooden Indian clubs that belonged to her grand-aunt;  call William Shakespeare "Will" to his face (that would be the cloth face of the puppet magnet on the door of our refrigerator, a gift from Ryan);  learned to identify the distinctive peaty flavor of Knockando single malt Scotch whiskey and the clear pleasure of Toad Hollow champagne;  read every word of one of her boxed sets of hardcover The Lord of the Rings series (which she then gave me);  discovered the pleasures of the mix-tape, back when audio tape was a real thing rather than a metaphor;  become a fan of regency romances after reading hers, and of peerless work by Margaret Mahy (The Great Piratical Rumbustification and many others), Caroline Stevermer (A College of Magics and many others);  learned to celebrate our annual national holiday, "Talk Like a Pirate Day";  laughed myself silly the first time I read her perfect Shakespearian sonnet titled "To My Bed" on the pleasures of sleeping rather than socializing;  attended a Fourth Street Fantasy Convention to hear a panel discussion on establishing the laws of magic;  and practiced turning out such tiny delicacies as Hapenny Treats.
Below is the recipe I still follow (in gluten-free form) in Ryan's hand.
Ryan was a cherished correspondent. She also understood, as few have, my fascination with the sculptures of white lions. (She understood they held for me a triple resonance: that of my all white, half-Siamese cat, Alpine; the echo of Shirley Jackson's novel, The Haunting of Hill House;  and the sheer delight in the names of the New York Library Lions: Patience and Fortitude.)
Below are a small sample of the cards she sent over the years.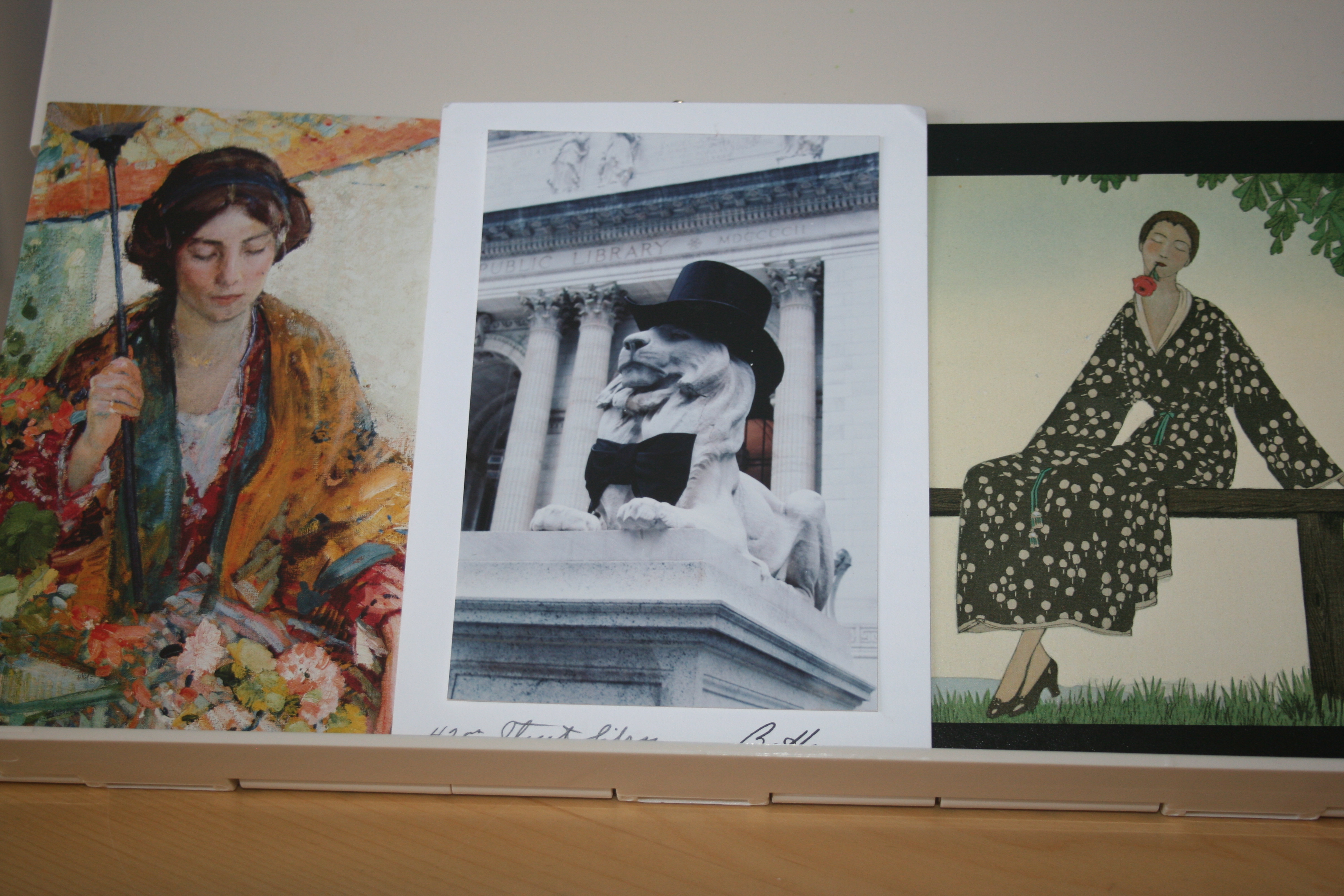 After Julia arrived in our world, Ryan picked up on her wavelength right away. Ryan couldn't visit frequently, but her visits were occasions. Julia remembers sitting on the porch with Ryan, coloring with the rainbow of Sharpie markers Ryan had brought, then playing with the finger puppets, also her gift. Ryan told Julia how, when she was a little girl, a neighbor had given her a nickname she liked: Ryan the Lion. After that, of course, all letters to her were addressed that way.
One day, she joined us in a painting project is still part of our daily life. I had happened on a church rummage sale and bought two things of which Ryan approved: an almost complete set of Trixie Beldon books and a box of unfinished wooden blocks. Since I had lots of brushes and acrylic paints–and it was a fine summer day–a group of us sat down to embellish them. Ryan was a natural and brought great gusto to our project. The transformation of plain wood to mini, moveable stage flats was magical.
And anyone who knows Julia well knows that she has been inseparable from Pig, who came from Ryan. Never has a Pig been so loved. (The photograph below was taken fully ten years ago, in November of 2003.)
Pig is now a constant, well-travelled companion. Well-styled always (currently sporting a new "body suit" of terrycloth to protect his delicate innards), Pig was the star of a special "Pig Style" issue of Julia's publication The Winona Times, designed to amuse Ryan from afar. In 2012, Ryan's sister wrote to Julia, telling her that Ryan had two smaller versions of Pig that she kept on her desk. George and Annette now keep Pig company (no doubt regaling him with stories of Ryan. Maybe, in exchange, Pig shows George and Annette his recent stitches, Lyndon Johnson-style?)
It is hard to say goodbye to this irreplaceable friend…and, by now, you've cottoned on to how impossible it is. Ryan had many, many friends, and we were very lucky to be part of her circle. As friends do, Ryan wove her vitality into the very fabric of our lives. She is indelible in us.
To close, in this "elegy season" (in the immortal words of poet Richard Wilbur), I wanted to do something small for my great-souled friend. I have never written a drinking song before, but somehow that seemed the right form to express Ryan's joy in the sheer fun of living.  So, as I sip my cup of raspberry leaf tea, wishing I could strum a Celtic harp, I offer this.
Drinking Song (for E. Ryan Edmonds)
So here's to our Ryan!
Under cloud-tumbled skies,
let's lift our full glasses
to her Irish eyes.
Let's think of her stories,
her piratical flair,
those green leather gauntlets
in her book-lined lair,
her box full of tickets,
and the love in her heart
for a well-burnished sentence:
the essence of art.
Sing Ryan the Lion
a song of good cheer!
We miss her each day but
we still hold her near.
11.12.13  (Ryan would have enjoyed this date, too!)