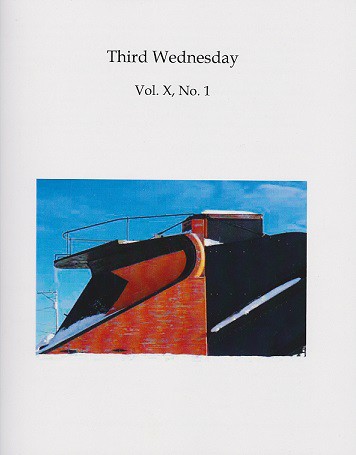 I am excited to share that Third Wednesday, an excellent journal that combines poetry, fiction, photography, and essays on craft and life, has included , "Nomad's Daughter", a poem I wrote last spring, in its celebratory 10-year anniversary issue. Of special pleasure is that my friend, Stella Nesanovich, the poet who first introduced me to Third Wednesday, and who some of you know through her recent book, Colors of the River, also has a poem in this issue ("First Dark"). It is an especially sweet experience to have one's work appear in the same issue with that of a friend.
There was also a small check, a rare event in the life of a working poet, and a testament to the serious way the editorial staff regards the work they review. I am enjoying the work of other poets, writers, and artists. Subscriptions are available at:
Third Wednesday, 11316 Farley Street, Redford, MI 48239
In addition to publishing the journal, Third Wednesday, holds an annual poetry contest. The deadline is in the last week of January each year; three winners will receive not only publication but also a prize of $50. You can send up to three poems (none to exceed two pages) and a $10 contest reading fee to be considered for the prize. (Send your submission to Third Wednesday Contest, Greenside UP, Ypsilanti, MI 48197.)
Do you have some work you've been planning to send out? Consider Third Wednesday. You can be sure that your words will be read with respect by experienced editors who are themselves writers.
Wishing you all happy reading and writing in 2017!     
LESLIE