Black Friday, bristling with door-buster deals at dawn, is, for me, a day to stay happily home.  My favorite thing to do–after the joys of Thanksgiving cooking and company the day before–is to curl up with a good book, preferably one recommended by a friend, one summarized by an insightful reviewer, or one I browsed from the (actual or virtual) shelf of an independent book store.
Like most readers, I love libraries (see my very first blog post from November 2011!), and I am also a fan of big book sellers like Barnes & Noble and Amazon. Independent book sellers hold a special place in my heart, however, and I like to support them whenever I can.  I think of each book store as I do collections of visual art: each is curated with a particular sensibility, from small shops (like tiny art galleries) to large-volume stores, more akin to full-scale museums.
I am convinced that independent book sellers are playing a key role in assuring the vitality of literary culture. Like family farms, independent book stores have been stressed in recent decades, but they remain as highly important diversity outposts and cultural icons. My hope is that they are an indelible part of the landscape. On Black Friday, and every day, I want to do my part to make sure they remain in the black.
As with the food I consume, I am more and more alert to where my books come from and how they arrive in my hand. And it seems many of you agree. A few months back, I put out a request to readers, asking for suggestions about the places you have found special books, congenial spaces, and exceptional customer service. Your wealth of suggestions (THANK YOU!) follows a brief profile of my own favorite local haunt. And for anyone who has known a love affair with books, you'll want to scroll all the way down to find a special essay by Beth Clary called "Des Kenny: The Other Man" (that includes some beautiful photographs of Galway, Ireland.)
Monkey See, Monkey Read (Northfield, MN)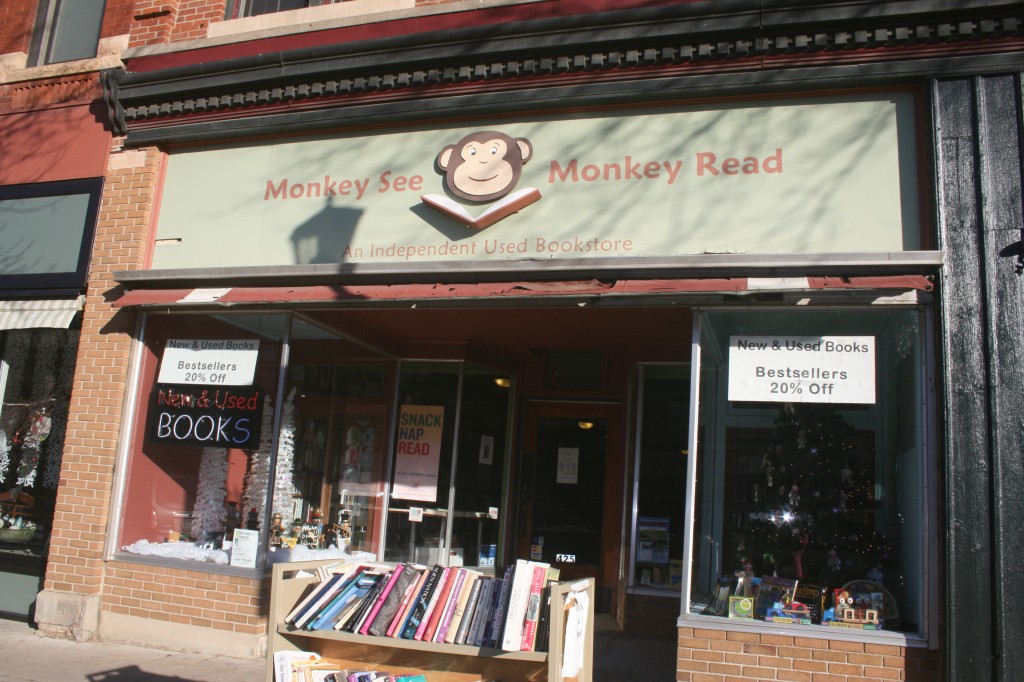 In the past seven and a half years, Monkey See, Monkey Read has become a Northfield, Minnesota landmark. Locally it has a reputation of diverse new and used stock, professional service, and unstinting support of local authors. (If you like mysteries, take a closer look at local author  and French professor Scott Carpenter's new book, visible on the shelf, called Theory of Remainders, as it is a gem of a literary page-turner.) This special store is also a fun place to browse for games, cards, t-shirts, and mugs and to have a chance at lively conversation. As an author, I appreciate having a real book store where I can direct people interested in purchasing copies of my books, and I rather love the company my own titles keep just one shelf above!
Since The Howling Vowels was published two years ago, sales from Amazon and Monkey See, Monkey Read are neck and neck…hmmm, either Northfield reads as much as the whole rest of the world, or else proprietor Jerry Bilek is a heck of a bookseller. Or, perhaps, both things are true. Bilek began his book-selling career with seven and a half years at Borders Books chain in the Twin Cities metro area, followed by seven and a half years at the St. Olaf College Book Store, giving him an impressively balanced tripartite view of the business.
"When I decided to open my own store," Bilek recalls, "I had two goals. I wanted to create a store that I would want to shop in myself, and I wanted to treat customers the way I like to be treated." He adds, "I don't need to make tons of money, but making a profit is essential. Without that, I would have to close the store, and that would not be serving my customers."
Bilek notes that in 2009 Northfield had two of its three independent book stores close their doors but that by 2010 his business was experiencing new growth and solidity. "I have the impression that people here really value having a book store right on Division Street and that they have made the decision to support me, which is great, because I want to be here for a long time to come."
If you are not as fortunate as I am, with Monkey See, Monkey Read just a short walk from your home, you can take a look at their website: www.monkeyread.com, check out their blog, or call for that hard-to-find title at (507) 645-6700.
Uncle Hugo's Science Fiction Bookstore (Minneapolis, MN)
submitted by Caroline Stevermer
Uncle Hugo's, now the oldest SF bookstore in the country, is in the perfect location in South Minneapolis. Not only is it conjoined with Uncle Edgar's, a wonderful bookstore specializing in mystery fiction, it is just across the street from Midtown Exchange, where all manner of food stalls, coffee shops, and restaurants are available for refreshment (and parking is free for two hours if you get the ticket from the adjacent parking lot stamped when making a purchase at any of the businesses in Midtown Exchange). An hour spent browsing at Uncle Hugo's is an hour spent with the best of fantasy and science fiction — not just the classics, but the best of the new as well. If you have questions, the staff are superb. Elizabeth LaVelle in particular is a genius at matching reader to book. As they have a website and do mail orders, you can get Elizabeth's advice from vast distances as well. I appreciate the way Uncle Hugo's supports local writers, and I confess I am one of them (2864 Chicago Ave S, Minneapolis, MN 55407 http://www.unclehugo.com ). Note from Leslie: I also highly recommend looking for Caroline's books; a good starting place is here.
University of Chicago Seminary Co-op Book Store (Chicago, IL)
submitted by Robert Denne

The Seminary Co-op bookstore has piqued my curiosity and helped to satisfy it for all of my adult life.  Its collection of amazing books that I never knew I wanted to read until I'd ventured inside to discover them has been drawing me back every time I'm in the neighborhood.  Trade and mass-market channels, even supplemented by regular perusals of book reviews, failed to alert me to wondrous new titles as effectively as the Co-op has always done.  And books of enduring merit, if not widespread appeal, are also always to be found there.  Although I mostly haunted the mathematical, statistical, and economic sections of the store, I was also routinely delighted by serendipitous discoveries further afield, such as books on the historical and philosophical aspects of Chinese landscape painting – none of which you would naturally associate with a seminary bookstore.
Nurturing the brain, for both business and pleasure, with the possibility of immediate interaction on a more human scale than with a huge research library or a remote retailer, is the essential role this place has always played for me. On the occasion of a campus expansion, the bookstore was moved from its rabbit-warren quarters in the basement of one building to a sunnier, more accessible nearby location, while preserving the more intimate aspects of the old one.  A project to document the store's transition and its meaning for others makes for interesting reading at http://www.semcoop-project.org/  The link for the store itself is http://www.semcoop.com/  A Wikipedia article with a few interesting facts and figures is available at http://en.wikipedia.org/wiki/Seminary_Co-op.  
 A Room of One's Own (Madison, WI) and Novel Ideas (Bailey's Harbor, WI) submitted by Ann Lacy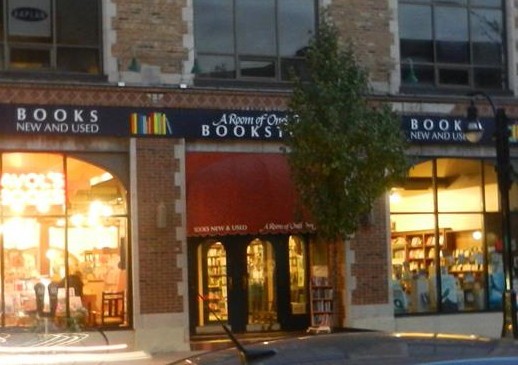 A Room of One's Own is my "go-to" bookstore.  I have followed Room through many incarnations in downtown Madison, and am happy to report that their new location is the best yet!  Room has always had an excellent selection of books and friendly and knowledgeable staff, and now with a significantly larger store, and the addition of used books through their partnership with Avol's, Room has an even better selection, and more space for readings.  I find what I come looking for when I shop at Room, but like all good bookstores, and especially independent bookstores, the greatest pleasure of going there is shelf browsing.
No online list of books, however thoughtfully chosen, can match the sheer bliss of inching along the shelves of a good bookstore, pulling down an interesting title to read the first few lines, discovering an earlier work by an author, being reminded of a book review read last year…  By browsing at Room, I have found so many books I would not have known about otherwise:  years ago, Lynn Lauber's White Girls, or Cynthia Flood's My Father Took a Cake to France, more recently, The Icarus Girl by Helen Oyeyemi.  And if I do feel the need to order a book online, I can do that, too, and have the books sent to Room for pickup, thereby avoiding shipping charges.  For more on Room, please check out their website: http://www.roomofonesown.com/.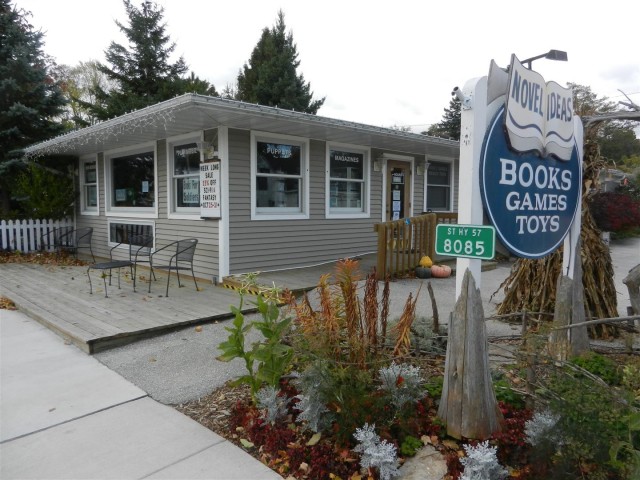 I don't spend anywhere near as much time in Door County as in Madison, but I would also like to put in a plug for Novel Ideas, a relatively new bookstore in Baileys Harbor, Wisconsin.  Although it is much smaller than A Room of One's Own, it also offers good shelf browsing opportunities–and is where I came across Everyman's Rules for Scientific Living by Carrie Tiffany and Gillian Flynn's Dark Places (long before Gone Girl…)  So if you are in Door County (the thumb on Wisconsin's mitten), check out Novel Ideas (http://www.novelideas-books.com/), and then go down the street to Nelson's Shopping Center (a True Value hardware store that is just stuffed with merchandise), loop over to Cana Island Lighthouse (http://www.dcmm.org/cana-island-lighthouse/), and on your way to Cave Point County Park (http://map.co.door.wi.us/parks/), stop in Jacksonport and pick up picnic supplies at Bley's Grocery (a small and friendly place with a fine butcher counter.)  
RiverRun Books (Portsmouth, NH) and Northshire Books (Saratoga Springs, NY) submitted by Beth Clary
On travels out east this year, I visited two great independent book stores. One was in Portsmouth, NH. It's called RiverRun Books (http://www.riverrunbookstore.com). It's small,l and on the shelves there is a mix of used and new books. Under tables throughout the store are used books that people bring for money or for credit. I was impressed the woman I spoke with at length and by the store's own story. Definitely one for a conversation. Bill said, "That story would make a great movie." They are publishing Baron Wormser's novel (due in December), and so I asked them a lot about their publishing arm. Interesting…hints a little of self-publishing but with the external eye on it as well which I think is important. A quiet and small place.
The second store that wowed me was relatively new to Saratoga Springs. It is called Northshire Bookstore. (http://www.northshire.com) They are legendary in New England for their store in Manchester, VT. It is very exciting to think that they now have a store in Saratoga Springs (makes me want to live there even more), and it is a magical place.  They carry A LOT of titles and have A LOT of space. Plus it was packed with people of all ages and races and languages in part, I'm sure, due to Parents Weekend at Skidmore. A true liveliness. Note from Leslie: Scroll down to find a lively essay by Beth about her unusual trans-Atlantic tri-annual relationship with Irish bookseller Des Kenny!
The Well Red Coyote (Sedona, AZ)
A Great Good Place for Books (Oakland, CA)
Copperfield's Books (Multiple locations, Northern CA)
Changing Hands Book Store (Tempe, AZ)
Book Passage (Corte Madera and San Francisco, CA)
The Book Shop (Green Valley, AZ)
submitted by Denise Roessle
The Well Red Coyote is Sedona, Arizona's only full-service, general-interest bookstore, carrying everything from the latest fiction, to Sedona guidebooks, to personal growth books, to books about nature. They have a great selection of books for kids of all ages and do mail orders and special orders, with hard-to-find titles their specialty. Best of all, they offer free author presentations, writing workshops, healing seminars, metaphysical & personal growth talks, talks about Sedona hiking and much more, every week. (website: http://www.wellredcoyote.com/) It's a lovely store and the owners, Kris and Joe Neri, are delightful. I've given presentations about writing memoir there twice this year. Above is a picture of Kris Neri and me in the store after my event on November 9.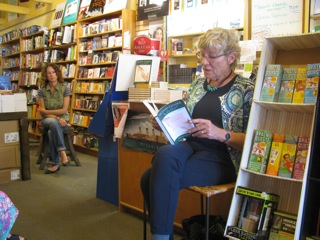 A Great Good Place for Books, Oakland, California (website: http://greatgoodplace.indiebound.com/welcome-great-good-place-books) is a cozy, friendly, eclectic bookstore in a quaint/artsy neighborhood. I did a reading of Second-Chance Mother in June 2012.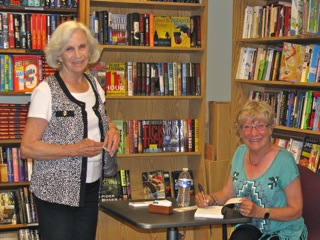 Changing Hands Bookstore, Tempe, Arizona Website: http://changinghands.com/ Popular bookstore in a college town, and one of the few independents / non-specialty bookstores in the entire Phoenix area. Huge variety, charming ambiance, friendly staff. Also they have author events, workshops, book clubs, etc. every week. Here I am again… signing my books there earlier last June. P.S. They attract some HUGE authors!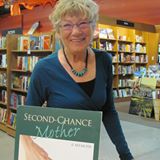 Copperfield's Books, with multiple locations in Northern California (website: http://copperfieldsbooks.com/) is larger than most independents, but still friendly and helpful. I did a reading there last year as well.
Book Passage, has locations in Corte Madera and San Francisco. They call themselves "The Bay Area's Liveliest Bookstore"Website: http://bookpassage.com/ — and it certainly is true. They host tons of events, with well-known authors, plus workshops and conferences. Note from Leslie: explore author Denise Roessle's work at her website www.secondchancemother.com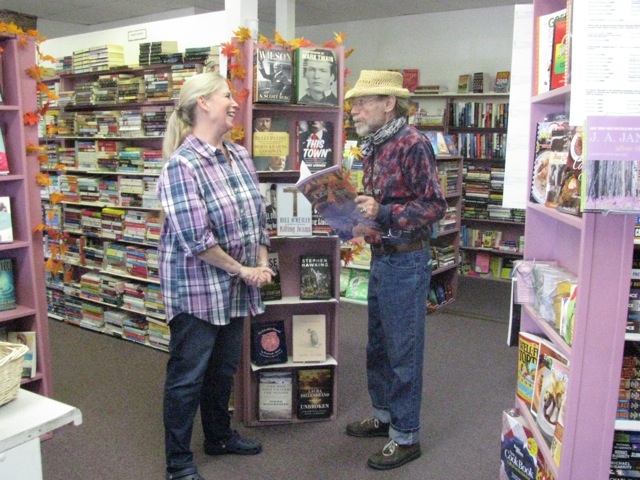 The Book Shop in Green Valley, AZ is a wonderful full-service community bookstore, with new books, a paperback exchange, and book rentals. They don't have a website, but do take and ship phone and email orders. They are located in the Green Valley Village, 231-B Esperanza Blvd, Green Valley, AZ (south of Tucson). 520-625-1995, email: g-gvbookshop@qwestoffice.net
Note from Leslie: explore author Denise Roessle's work at her website www.secondchancemother.com
The Last Bookstore (Los Angeles, CA) submitted by Raina Richter
My favorite independent bookstore is the Last Bookstore.  They are the best.  The place is huge and has a labyrinth on the second floor where all of the books are $1, which includes a sci-fi vault and random book art.  Here is more about them: http://lastbookstorela.com/about/. Here also is a photo of me and my dogs wandering the labyrinth. There are a ton more photos online.
Just from this small sampling, I am bedazzled by these book oases, by how different each is and how committed to helping readers foster their joy in books. I am also fascinated by the different relationships that readers, authors, and booksellers develop.
And so, if Black Friday 2013 finds you in a shopping mood, consider the discoveries you might make by visiting your favorite independent book seller.
Not sure of all the options are in your area? Midwest Independent Booksellers Association can help for the nine-state region surrounding Minnesota. For help nationwide, check out the resources of the American Booksellers Association. You just might find that unexpectedly perfect gift–for a friend or even for yourself!
Happy Reading! Happy Shopping!
(A big thank you to Julia Denne for suggesting the topic of this post!)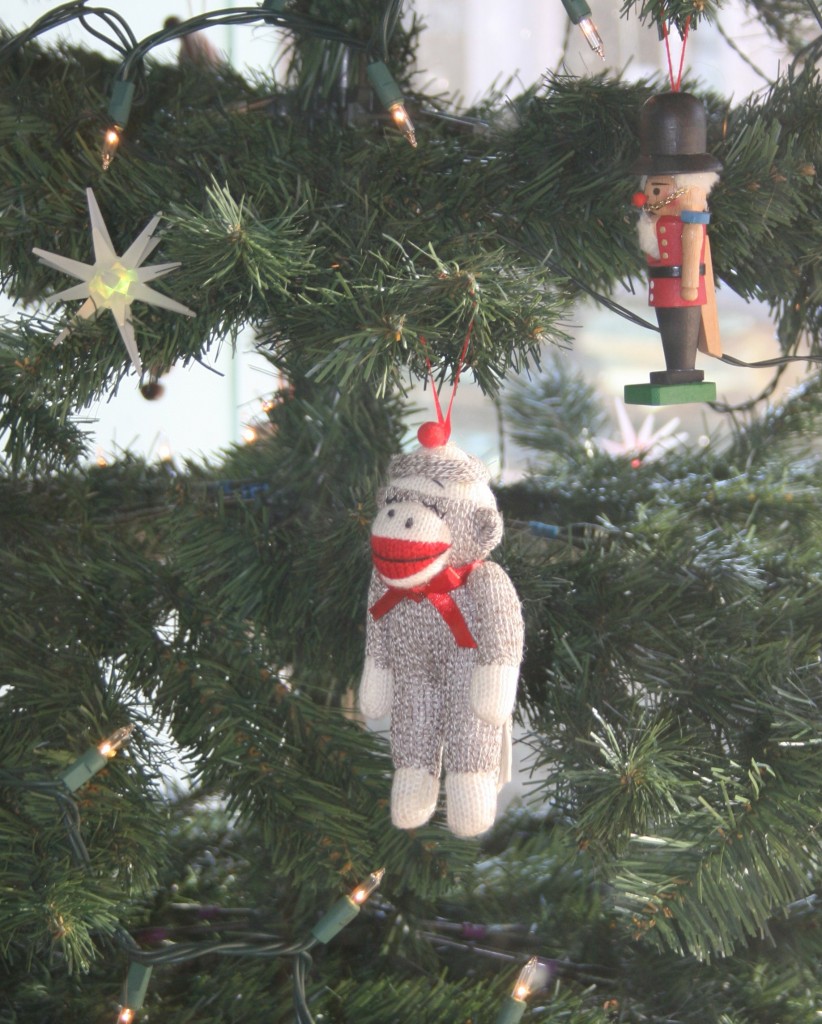 Above is the tree decorated with sock monkeys, currently in the window of Monkey See, Monkey Read.
Scroll down for a delightful essay on Irish bookseller Des Kenny by Beth Clary.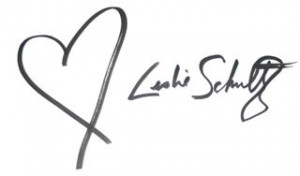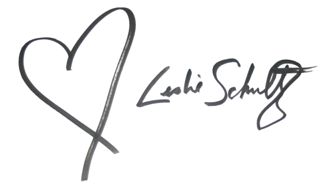 Thank you for reading this! If you think of someone else who might enjoy it, please forward it to them. And, if you are not already a subscriber, I invite you to subscribe to the Wednesday posts I am sending out each week–it's easy, free, and I won't share your address!
Des Kenny, The Other Man
I've been happily married for thirty-one years, but I admit it: I have had a fourteen-year relationship with a man other than my husband. He's older than I am; shorter than I am and definitely more well read than I am. Add to that he has a beautiful Irish accent of the Galwegian variety. We've actually only been together four times. What times they were. But he sends me boxes two, sometimes three times each year and has done so faithfully since that first November of 1999.
The first time we spoke it was early on the morning of November 19th, the morning of my fortieth birthday. He was the first person to wish me happy birthday that day, to tell me that my sisters had arranged for a special gift for me, a selection of Irish books. Awakening to the roll and cadence of an Irish brogue is a delightful way to start one's day. Not only did he start with birthday greetings, he apologized soon after. The gift would be late, he was sorry to tell me. That was why he called. He wanted to be sure I knew who was thinking of me. Also, he was looking forward to meeting in person the next March when I would be in Ireland.
A few months later, I went to his place, a beautiful old building with a window James Joyce mentioned in Ulysses and floors filled with comfortable over-stuffed chairs, walls with photographs of writers and over thirty thousand books. Think how the hours would pass with this man in this place. I heard his voice, just the same as the one that wished me happy birthday, as I was browsing through Ireland's newest releases. I looked and saw him for the first time. Dark hair, red flushed face, ironed buttoned down shirt moving comfortably over his round belly to tuck into practical black pants that ended in sturdy black shoes. He was engaged in a difficult conversation. I could tell from the way he spoke and the specks of sweat that appeared on his forehead. He was handing papers back to a woman dressed in a cape. He told her he didn't take to her story. She pressed him but he gently took her hand and pressed the papers into it and said, "Keep at it. Don't give up."
When she was out the door, and I had climbed the stairs taking in his books and art, I finally introduced myself to him. Oh the conversation we had. We discussed what I'd seen on my visit so far, which things in the box he'd sent I enjoyed the most, what the prairies are like where I live – a place he'd never been. Someone brought us hot tea on that cold wet March afternoon. Before too long I was writing down my email address and making a list for him: Yeats, Gregory, folklore, spirituality and death.
He looked at the list and smiled, "Yes. I can definitely do this for you. How often shall I be in touch?"
I blushed. "Twice, maybe three times each year?"
He nodded and said, "Excellent. And what about today? Won't you take something with you today? I think I have a thing or two for you over here."
I followed him. He set aside more than a thing or two to send to me and I took a couple with me. That night, curled up in bed, I pulled out the bookmark that he'd slid between the pages of the book I'd purchased. On one side was a quote from the Irish poet Theo Dorgan. "I heard last night that Borges up in Heaven was asked by God to recommend a read. 'Why don't you e-mail Kenny's,' was his answer, 'and while you're at it, say hello from me.' (To the tune of Galway Bay.)"
This man with the lovely lilt of the Irish in his voice, is Des Kenny, bookseller. He sends me books at least twice each year. If he comes across a book that makes him think of me, houses of Co. Connemara, the county of my relatives, or a new book by Irish author Dermot Bolger whom I'd read and admired a great deal, he'd put that book in the box as well. Sometimes I get an email from him asking for my new credit card number and wondering what book I liked best from the last batch. We correspond a time or two and then hold off, waiting for the next time something throws us into contact.
One time I was working on a story about death. The main character has a particular way with the dying and I couldn't find a word in the English language for it. After trying to create a new word from our language even dreaming of floating letters that came together in a jumble of nonsense and then dissipated, I decided to call Des and see if the Irish had a word for such a person. Des, who speaks Irish as well as English, listened to the description of my character. We discussed banshees, the Irish expression for the grim reaper and other Gaelic words that might work. He promised to talk to some folklore experts he knows and get back to me.
A week or ten days later he called me back to talk to me about psychopomps, escorts for the dying. That was getting closer, we agreed, but we would keep searching, reading and talking.
Not long after, I had the chance to spend ten days in Galway as part of the Fairfield University MFA program. I told the director about Des and how he knew more about Irish literature than anyone on earth. So one night Des gave a talk on the history of Irish literature to our group. Before the talk, we greeted each other and had a few precious private moments of conversation about my writing, his reading and the release of his latest book: Kenny's Choice: 101 Irish Books You Must Read. I asked when I could see him at the new store, the one they'd move to from High Street, the Galway centre store they occupied for decades. "I'm there every day but Sunday," he said.
I went and visited this airy light open space that struck me as the opposite of the old store on High Street. Des gave me a tour. All the two thousand plus photographs of authors could be easily seen. Books were displayed more like a library than the creaking floors and leaning shelves at the old bookstore and comfortable couches and chairs were scattered around the open room. The art gallery was gorgeous. It felt as if the paintings and sculptures and glasswork had room to breathe. Then, discreetly, he showed me where over three hundred thousand books are ready to be moved onto shelves or into boxes for shipping.
I am not Des's only admirer. When Kenny's announced they were closing the High Street store in 2006, the regular visitors spoke out appealing to the Kenny Family to keep a bookstore somewhere in Galway. They asked how they could live without a place to browse books, or to visit with the people they only bumped into at Kenny's. Finally, Des and the seven other members of the Kenny family who work at the store, relented and opened this new place, a little out from city centre, in 2008. It isn't as busy as I remember the old store being, but there are plenty of people browsing and talking about books. Des also has about 1500 other admirers in seventy-five different countries. One way or another they too became members of Des's book club, receiving a regular dose of reading, hand-picked by Des.
I don't mind sharing Des. As long as that box of books shows up twice each year and I can call him when I need to understand something only he could explain, I'm content. I probably have more books from Ireland on my shelves and tables and desks than I'll read in this lifetime. But having them there reminds me I always have something to read – whether for work or pleasure, to escape times of sickness or loneliness or to savor a story the way only reading allows. Of course, it helps that these books remind me of Des. I can picture him, pulling my 3 x 5 card from his files and contemplating what books I might want to read next. It's mid-November, my birthday just days away. Another box should be arriving any day now.
Beth Clary