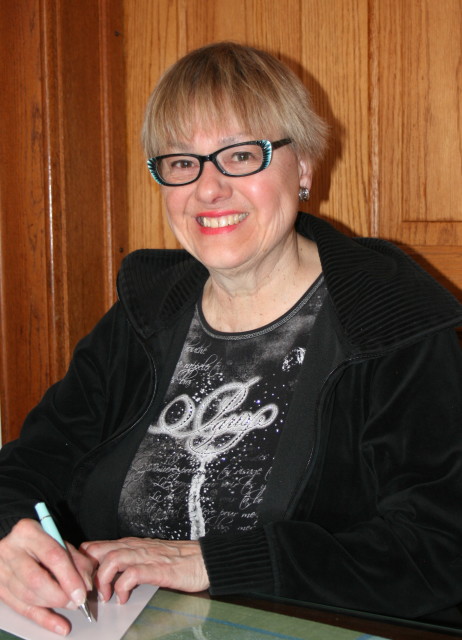 As readers of Northfield's Entertainment Guide know, local historic events can be just as interesting as current ones. Since 2007, Susan Hvistendahl has penned the "Historic Happenings" column, offering the reader a few moments of armchair time-travel to complement coverage of many arts and cultural entertainments available in Northfield and the surrounding area today. I consider that Hvistendahl has picked up the torch from the redoubtable late doyenne of local history, Maggie Lee, and so I was interested to learn that Maggie's own columns and archival suggestions as sources for some "Historic Happenings" columns.
Recently, in partnership with the Northfield Historical Society, the Entertainment Guide has republished selected columns focused on town life in a compilation bearing the same name as the column.  (Hvistendahl served as editor, while Rob Schanilac and his staff handled the design, layout, and printing.) Recounted in Hvistendahl's lively prose and illustrated throughout, this volume is one of three planned. Another on St. Olaf College and a third on Carleton College will be released later this spring, just in time for alumni celebrations.
Volume One is arranged by original date of column publication, and a helpful key at the beginning points the reader toward topics of interest. The real adventure, however is discovering new layers of facts and stories from Northfield's past 150 years: man-eating lions; ax-wielding, temperance-promoting settlers; musicians; teachers; merchants; Jeopardy champions; sports stars; and an aspiring president parade through Northfield history and these pages.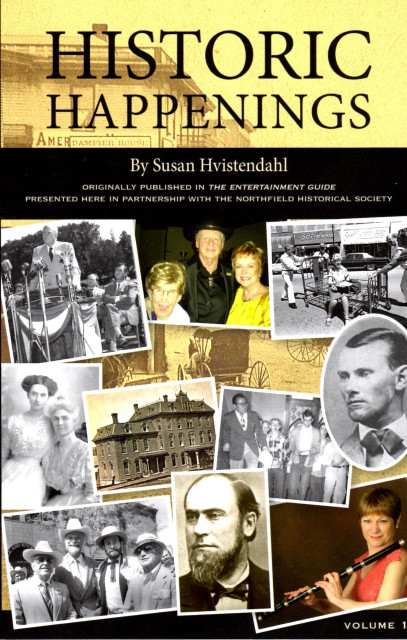 Hvistendahl grew up in Brookings, South Dakota but moved to Northfield to attend St. Olaf College. Upon receiving her B.A. in Spanish, she married her Carleton College-graduate boyfriend and moved away from Northfield. Post-graduation she earned an M.A. in English from Iowa State University and taught freshman English there. Later, she taught Spanish through community education venues in New York State. She also launched a very successful freelance writing career–serving variously as a research assistant and interviewer for Roger Kahn (author of the acclaimed portrait of the 1950s Brooklyn Dodgers, The Boys of Summer) and wrote a regular column for a local newspaper in Putnam Valley, New York.
Returning to Northfield in 2004, Hvistendahl began researching two local buildings owned by her brother, David Hvistendahl, at his request. From there, she was hired by the Northfield Historical Society to research local history for the city's sesquicentennial celebration in 2005, and in the course of this project she created a detailed timeline and laid the foundation of her successful column.
Our family met her in 2006, when we were looking for a skilled teacher of Spanish to give lessons to Julia. Here is an historic photo–from our family archive–of Susan from March 2007, taken in the meeting room of Village on the Cannon.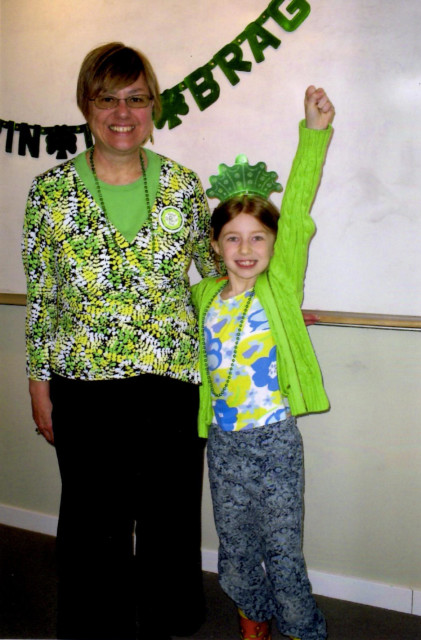 Historic Happenings is available at the Northfield Historical Society, Content Book Store, and the Entertainment Guide office; correspondence to Susan Hvistendahl can be addressed to her c/o the Entertainment Guide/By All Means Graphics,17 Bridge Square, Northfield, MN 55057.
Look for brand new "Historic Happenings" columns each month!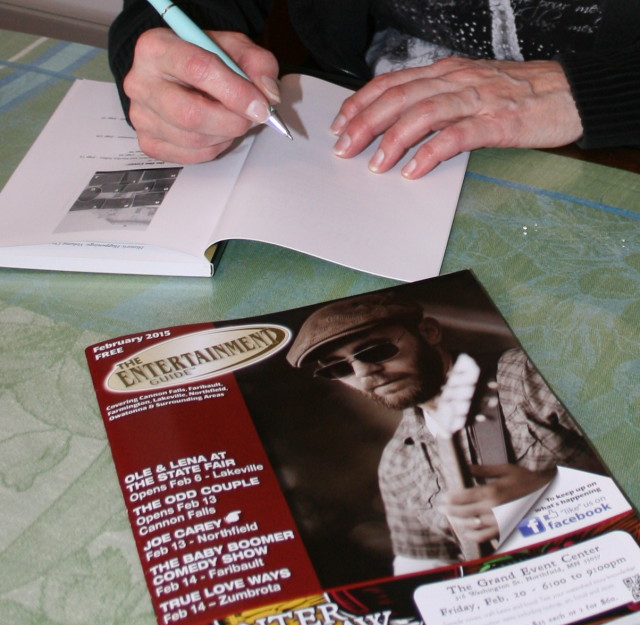 Until another Wednesday, wishing you well!