Today is July 22, 2013, which means that it is a triple birthday: Julia and the main character of The Howling Vowels, Alexa Stevens, both turn fourteen, and the new volume of Alexa's adventures (in which you can read about her thirteenth birthday party) is now officially published. And Sometimes Y continues the adventures of the Howling Vowels of Sundog, Minnesota and stands as something brand-new for us: a full-scale mother-daughter writing collaboration. We're thrilled that it is being also published by Do Life Right, Inc., which published The Howling Vowels in 2011. This new book follows the adventures of Alexa and her four best pals–three years after the conclusion of the first book. It also introduces a new human character and several memorable animal characters.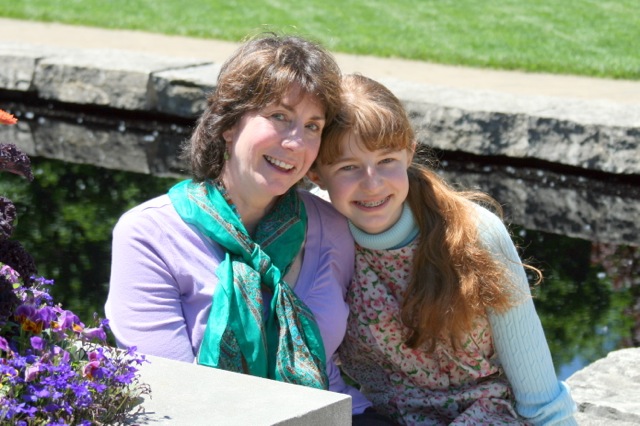 Here is a recent photo of us at Olbrich Gardens in Madison, Wisconsin (the city where I studied creative writing), and here is a link to an interview on YouTube in which we talk about the process of working together:
(To view the video, click HERE or click on the Doing Life Right image below):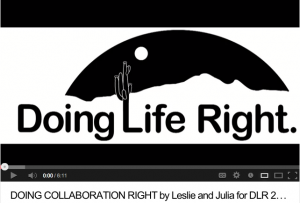 The Howling Vowels and And Sometimes Y have been compared to modern Little House books and to the Minnesota stories of Betsy-Tacy by Maud Hart Lovelace set in Mankato a hundred years ago. While thoroughly modern, the Sundog books do offer a vivid picture of an individual family, set in a strongly knit community, in a world where nature's presence is part of the story. Homeschooled, brimming with questions, ready for fun, and profoundly gifted with verbal dexterity, Alexa continues to struggle to with the challenges of expressing her own authenticity while accepting others for who they are–and who they are becoming.
As you can see from the cover, this new book also includes numerous illustrations by Heather Newman. We don't quite know how she did it, but she captured how each familiar character has grown and changed, and she knew even better than we did what the new character, Yves, looks like. She also provides an updated map of Sundog, Minnesota (which bears a striking resemblance to Northfield) that highlights key sites in the action.
The Kindle version is available later today on Amazon. In a week or so, paperback copies will be available, too. (We're looking forward to having them in our hands!) These can also be ordered next week from Amazon; Monkey See, Monkey Read in Northfield; Do Life Right, Inc., or here (for a signed and personalized copy.). And, by this fall, the story will be available as a downloadable audio book read by actress Kerri Wagner. And stay tuned for details, because we'll be giving away a free Kindle version of The Howling Vowels very soon!
[Update 7/24/13 – The Kindle and paperback versions of And Sometimes Y are now available on Amazon.com.]
For more information, or to obtain a signed copy, contact us at (authors@winonamedia.net).
And please feel free to send this to anyone you think might like to see it! Thanks!