I am most used to the kind of creativity required to make new things–from word-built objects like poems and stories; from arrangements of color, form, texture, and line like photographs and quilts, to new placements of plants in the garden or ingredients in a recipe. Because of my daughter's passion for ecosystems, however, I have been learning for the past several years about the creativity brought to bear by an amazing organization: the International Crane Foundation (ICF). Last June, Julia and I planned our second visit to this visionary place, the center of an organization that has inspired Julia on many levels. We were joined by my sister, Karla, an extremely talented wildlife photographer. When cranes are nearby, all of us uncap our camera lenses, as you can see below.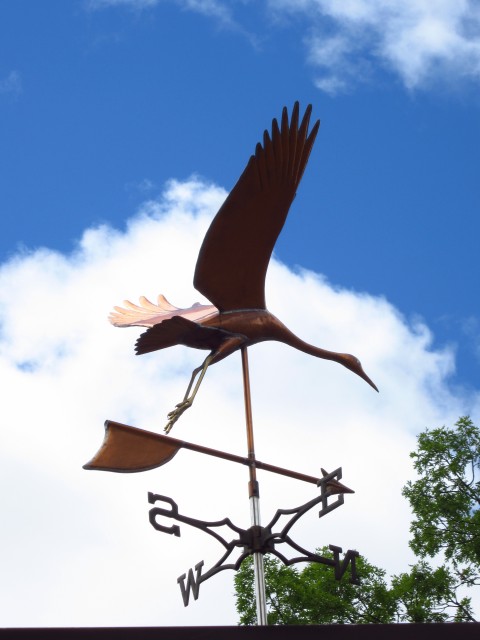 Founded in 1973 and headquartered in Baraboo, Wisconsin since 1984, the ICF combines Midwestern roots with a truly international in focus on species preservation, habitat restoration, and interspecies cooperation. Cranes function as key indicator species, and the ICF factors in meeting dire human need as a powerful strategy for preserving key wetlands and nesting sites A hallmark of the ICF vision is to inspire and empower the local populations to protect cranes and their habitats by providing economic incentives and by spreading the word about how wilderness and wetlands is critical for humans as well.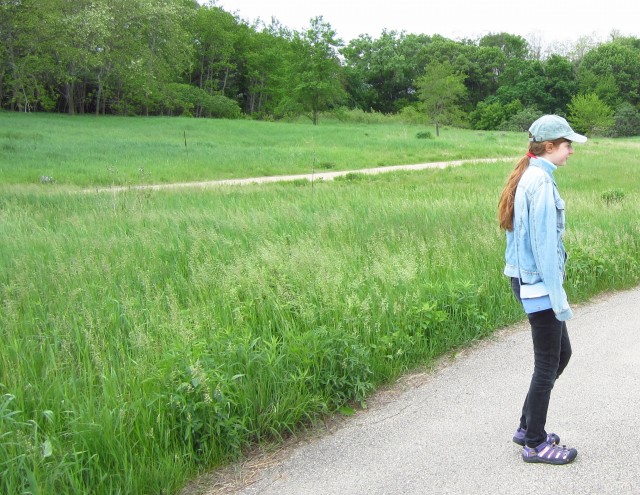 As a homeschooling parent & teacher, I see the ICF as a kind of role model because of their creative inventiveness. When they see a need, they find a new way to meet it. For example, after meeting the enormous challenges of hatching healthy whooping crane chicks in captivity, a new challenge emerged: how to teach young cranes to migrate more than 1,000 miles without adult cranes to guide them while, at the same time, to prevent these chicks from imprinting on humans so they can function in the wild. What solution would you devise? I don't know that I would have be able to come up with the workable solution ICF did in 2001–to use light air craft as migratory mother figures, guiding the young birds all the way from Wisconsin to Florida!
Julia-eye view: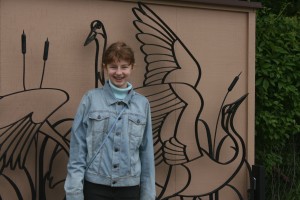 I love the International Crane Foundation, and it is my favorite charity. Though there are many worthy causes to choose from, the ICF's work in wetlands, some of the most fragile ecosystems, and with the people who live near them, earns ICF the highest place every Christmas time on my contributions lists. I have been to the ICF twice now and think it is inspirational and great! I took this picture before I was aware of the International Crane Center–although I identified it as a crane when I was eight, Nancy Braker of the the Carleton Arboretum let me know it is probably an egret. (Thanks, Nancy!) Egrets, herons, and cranes are all so beautiful! I think it is fitting that cranes are symbols of peace.
Karla-eye view:
Early June was a lovely time to visit the ICF.  It was a little cold with a misty rain, but the cranes were out in force.  I found the ICF to be peaceful and beautiful, a perfect place to spend a day in nature.
The pathway to the crane exhibit is made of recycled glass.  It glistened in the morning light.
One crane was enthusiastically communicating.  I wished I was able to understand the language of cranes.
The nature trail that wandered down to the pond was bordered by bright green grasses dotted with flowers.
A crane engaged in a routine task of preening looked so graceful I was reminded of ballet. Leslie-eye view: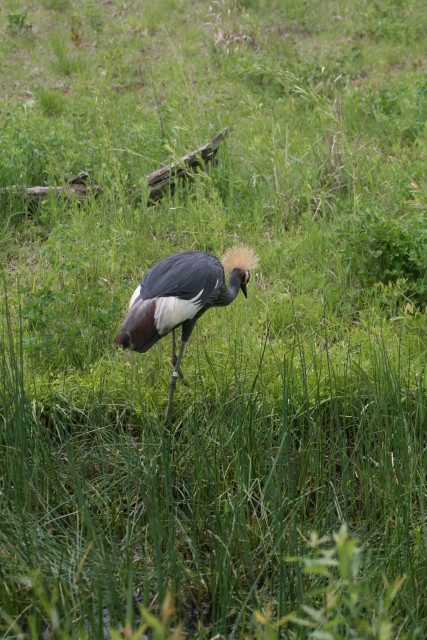 Cranes are not complete strangers in Northfield, either. We saw evidence of a turning tide in 2010. Not too long ago, the endangered whooping cranes visited our area, near the amazing piece of land maintained by Carleton College called the McKnight Prairie. If you are able to visit Baraboo, Wisconsin, do stop and enjoy the features of the International Crane Center: an impressive array of cranes from around the globe, an interpretive center (and friendly, knowledgeable staff), woodlands, wetlands, and prairie. If you can't visit in person, be sure to peruse the fascinating ICF website where you can see wonderful pictures of cranes in their natural habitats around the globe, read about the history of saving these threatened populations, and help support their mission through membership and online shopping for books, gifts, photographs, and jewelry. If you have a favorite crane or a favorite story of habitat preservation, please let us know!                               Leslie, Julia, and Karla___________________________________