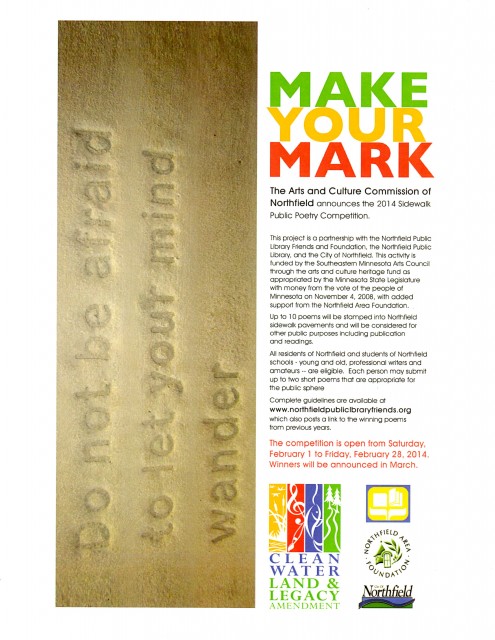 Northfield's fourth annual Sidewalk Poetry competition kicks off on Saturday, February 1 at 10:00 at the Just Food Community Room. If you are in the area, stop by with a poem you'd love to read or recite, or just come to listen, enjoy refreshments, and celebrate poetry. A special bonus is the world premiere screening of filmmaker Paul Krause's twenty-two minute documentary on the 2013 project. The DVD follows the whole cycle, from the judging of submissions to installation of poems and the capstone event at Bridge Square.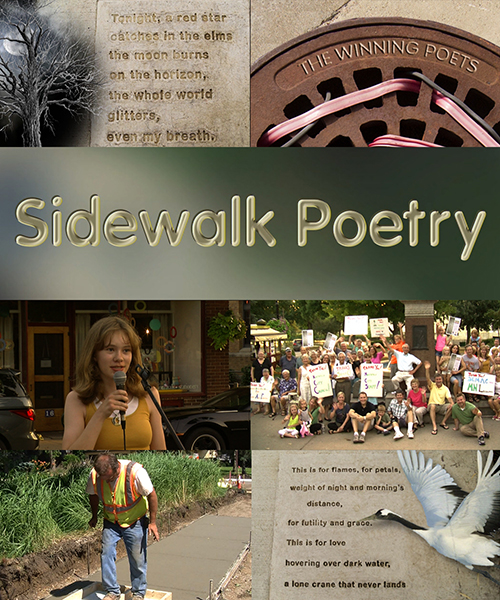 Copies of the DVD will be available at the Kick-off event for $15 and can also be ordered from Paul at Dancing Sun Multimedia for $20 plus postage. For more information on this year's guidelines (they have changed a bit!) and text of the previous winning poems take a look at the city's website or the Sidewalk Poetry page on the Friends and Foundation of the Northfield Public Library website.
For a little more discussion of the project, including thoughts by Paul Krause and readings of poems we love by Philip Spensley and me, check out the archived radio broadcast of ArtZany with Paula Granquist for Friday, January 24, 2014 on KYMN-AM (1080).
Art, including Sidewalk Poems, is inspired by nature, emotions, ideas, and/or other art. In the pair of photographs above, a photograph that my sister, Karla, took of a grasshopper inspired me to try to render it as a pencil drawing. Then I got a much better idea: for Karla's 50th birthday, I commissioned artist Pat Kaluza to create a translucent mosaic of stained glass inspired by the photograph. Julia and I accompanied Pat as she selected some key pieces of glass for the piece–a magical experience.
And this photograph by Karla is always displayed in our dining room:
I wonder: did I have it in mind subconsciously when I wrote a poem last year that is now impressed into the sidewalk in downtown Northfield?
Words fly
like insects:
tiny, necessary.
Living jewels,
they shimmer and journey,
incidentally encouraging
fruit from flowers,
igniting
the dusk, the stars.
Leslie Schultz
I know that inspiration can come from any direction. It is my job as an artist to stay alert and to make time to allow the inspiration to unfold when it arrives. And I know that at this snowy time of the year, when I am inside more than I prefer to be, I am especially inspired by Karla's photographs of the natural world. Below are just a few of my favorites.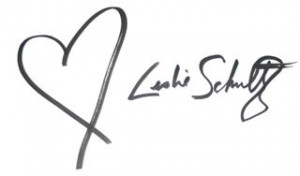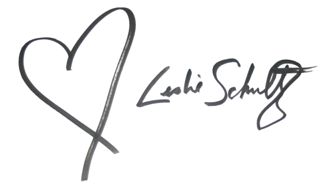 Thank you for reading this! If you think of someone else who might enjoy it, please forward it to them. And, if you are not already a subscriber, I invite you to subscribe to the Wednesday posts I am sending out each week–it's easy, it's free, and I won't share your address with anyone!