First of all, let me share news of a dream come true: I did, indeed, finish the quilt profiled in my February 4, 2014 post, the one I started in 2003 or 2004. I put in the last stitch just before the equinox and before the weather really turns cold. It is really a pleasure to have a new quilt to sleep under now–and later, too, when the furnace goes on for the duration. As promised, here is a little photographic proof.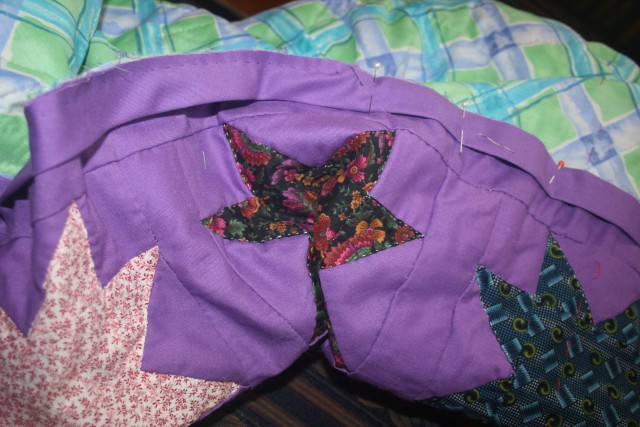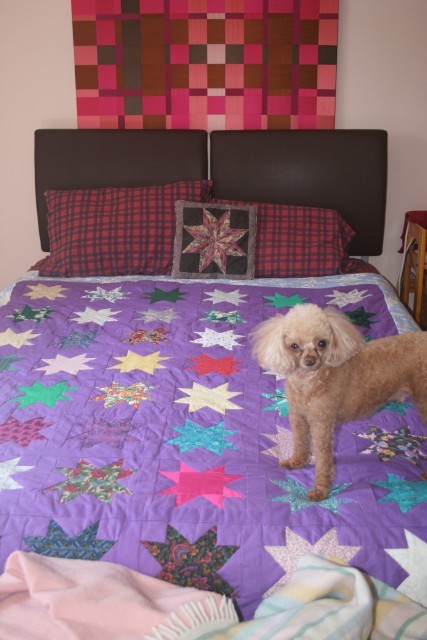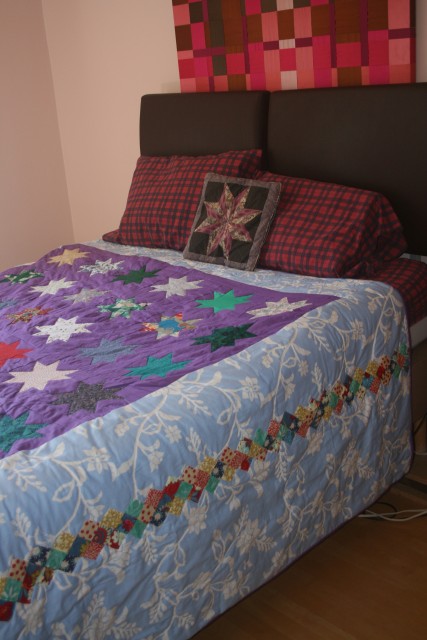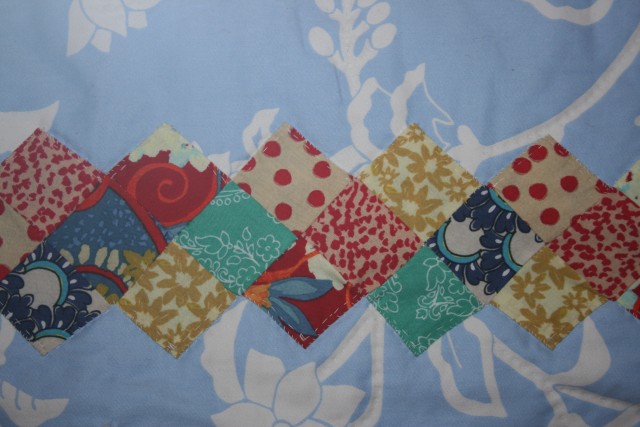 I dream under quilts every night, and when I am not actively working on a quilting project I dream of doing so. (If you scroll to the end of this post, you'll see how I organize my dreams in three-ring binders. Since I do every stitch by hand, I would need to be hale and hearty for another thousand years to make every quilt I imagine I shall, and yet, the dream of new projects never dies.
I have also been thinking about what quilts symbolize these past few months. I respond not only to the sheer graphic and tactile nature of quilts but also to the romance of their history, the poetry of their names, and the satisfying, puzzle-solving aspect of cutting out pieces and making them work. Here is a photo from my office. It was taken about the time I started the above quilt, and the border of the frame echoes for me the appeal of quilts.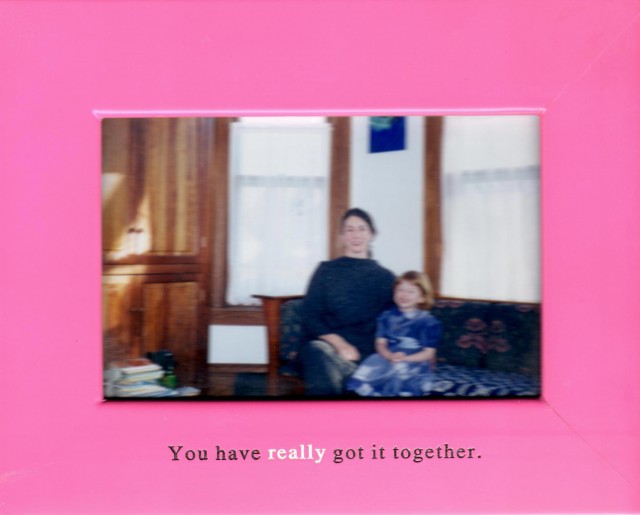 I think we all want to get it — life — figured out, to recognize satisfying patterns. As far as that goes, of course, it is a bit of a mirage or at best a moving target. Figure out one conundrum and another one pops up. Finish one quilt and (as with that mythical beast, the Hydra) another dozen projects rise up and ask for attention.
The poet in me enjoys the names of quilt patterns, and the novelist is intrigued by the stories implicit in the names, in the lives of those who imagined and made the quilts, and those who lived and died depending upon them. Today, I thought of the names of the quilt patterns I have already made. Here is a partial list:
Bear Paw
Maple Leaf
Drunkard's Path
Anna Dancing
Tumbling Blocks
Postage Stamp Baskets
Moon and Stars
Santa Fe Fiesta Plate
Grandmother's Garden
A Walk Through the Woods
Christmas Windows
Dirty Windows
Card Trick
Noah's Ark
Seven Sisters
Many people share an interest in the literary possibilities of quilts. At the lofty end (quilt-batting pun intended!) is a work of high literary merit: Margaret Atwood's Alias Grace, a novel I read and have written about.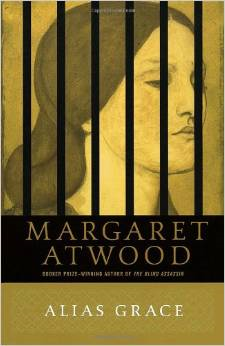 This work, published in 1996 and short-listed for the Booker Prize, is a work of fiction that uses a patchwork of narrative techniques to applique speculative fiction on top of historical fact to (re)create the mystery surrounding a double murder in Canada in 1843. As those of you who have read it will recall, Atwood very effectively uses the names of fifteen different quilt patterns as chapter titles. The action moves (perhaps in part ironically) through "Jagged Edge" and "Rocky Road" to "Young Man's Fancy" and "Secret Drawer" to culminate in "Tree of Paradise." Atwood is a poet of great skill as well as an internationally acclaimed novelist. She makes the most of the poetry, mystery, and history of these anonymous, collective, evocative folk art terms as she structures her beautiful, bleak, and demanding fiction. (If you are interested in scholarship on the quilting motif in Atwood's work, look here.)
Not in the mood for the bleak and demanding, however beautiful the rewards? You might enjoy the series of "cozy" mysteries. Some years ago, I bought a number of paperbacks at a quilting shop that has since closed, and I still enjoy the fine storytelling of Earlene Fowler and her Benni Harper mysteries. This amateur sleuth was raised on a California ranch and remains close to her father and grandmother who still work the ranch, while she has become an arts adminstrator in the nearby fictional town of San Celina (modeled on San Luis Obispo–much as my fictional Sundog, Minnesota is modeled on my home of Northfield.) The intrepid Benni specializes in folk arts; her grandmother, Dove, is a skillful quilter and belongs to a group of quilters; and Benni's husband is the chief of police. I have enjoyed all of the first thirteen, and look forward to reading the last soon. Fowler is gifted in plotting and sense of place, as well as secondary characters. She also makes the skillful links between novels that allow the characters to grow and change, to create an abiding sense of a real world. The sixth installment, Mariner's Compass, won the 1999 Agatha Award for Best Novel.
The titles include:
Fool's Puzzle
Irish Chain
Kansas Troubles
Goose in the Pond
Dove in the Window
Mariner's Compass
Seven Sisters
Arkansas Traveler
Steps to the Altar
Sunshine and Shadow
Broken Dishes
Delectable Mountains
Tumbling Blocks
State Fair
Spider's Web
I haven't yet read the last two. There is also a companion volume to the series called Benni Harper's Quilt Album which Fowler co-authored with quilter Margrit Hall. I haven't seen it yet, but it contains photos and patterns of quilts, as well as bonus material on the characters, plot points, and places of the world of San Celina. I imagine it to be like Brunetti's Venice by Donna Leon, but more graphically interesting.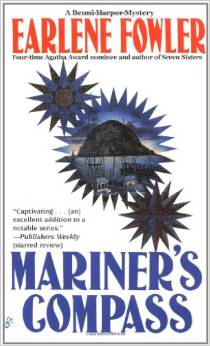 Naturally, the most riveting reading in my quilting world are books about how to construct these flat-but-three-dimensional, practical show ponies.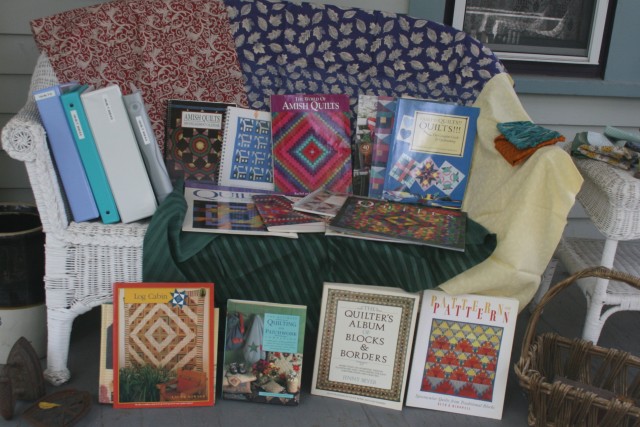 Above you see the inspiration for dreams and future projects. I am planning to make a few wall hangings for myself in these crisp fall days, and then begin cutting out a special quilt for Julia's college dorm room. It is less than two years until she will need it, and so I will have to work five times as fast as I did on this last one! I am looking forward to the challenges of speed and also of design, as she has requested an Amish pattern. Although I have long admired their designs, once bought a small quilt from an Amish farm in Wisconsin, and had several pieced quilt tops "fostered" out to Amish women for quilting, I have never made anything with all solid colors. It will be interesting to see how I do without the siren's song of pattern to keep me awake.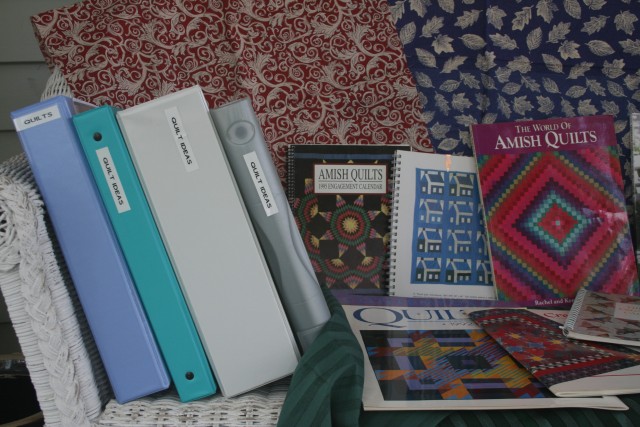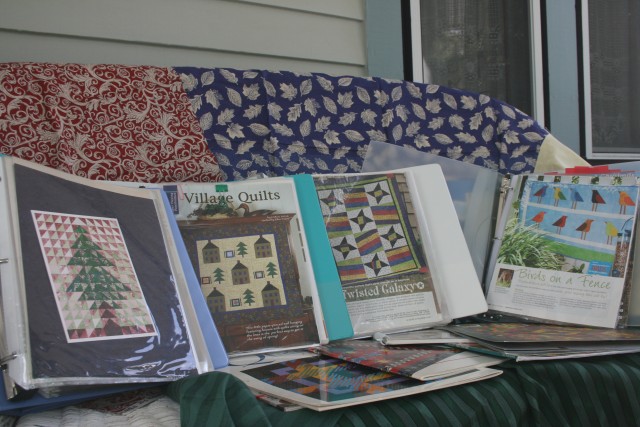 Have you slept and dreamed under a favorite quilt or tried your hand at a quilted puzzle?
Later this fall, I plan to share one more quilt-themed post–on quilts as gifts. I think I shall wait until there is a touch of frost in the air.
Until another Wednesday, wishing you well!