It is that back-to-school time of year, and we're going in a little different direction than we expected to last spring. After taking the SAT last January and touring of mid-western colleges last April, Julia came to me one morning and announced, "Mom, quoth the raven: never sophomore." She is not a fan of Edgar Allen Poe's gothic aesthetic (though she's enjoyed Jane Austen's gothic spoof, Northanger Abbey). Rather, she was proposing to accelerate her schooling by one year. After a few family conferences, we agreed: Julia is now a homeschooling high school junior.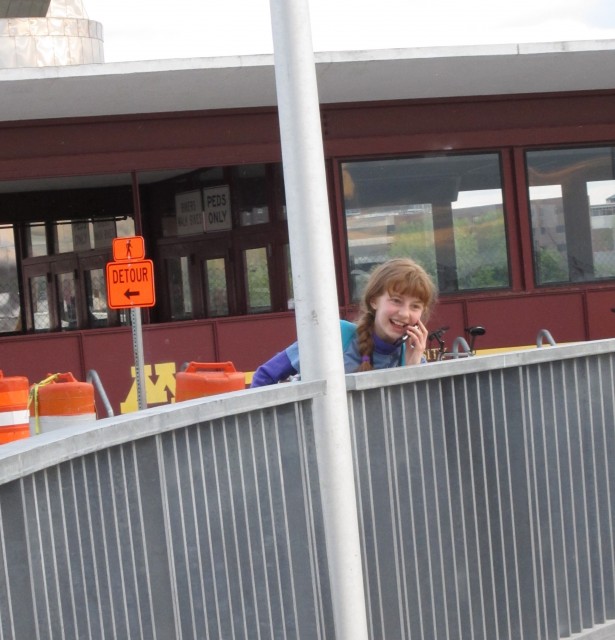 (Here she is, a few years ago, on the University of Minnesota campus.)
Julia has always loved the academic side of life.  (Here she is, in April of 2000, not quite reading yet, but weighing the narrative heft of  Middlemarch! )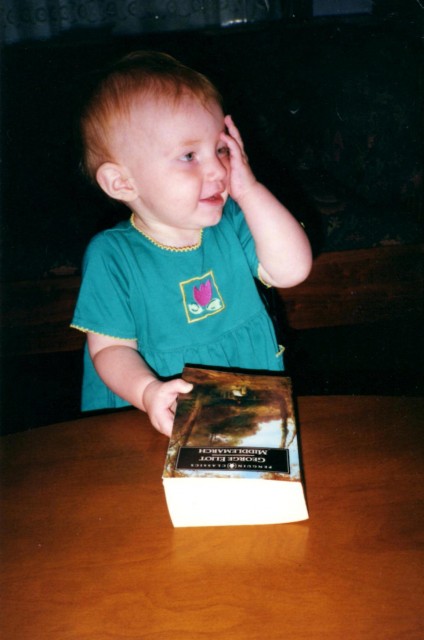 Her assessment of where she stood relative to high school requirements was thorough. Julia created a transcript of high school-level work through ninth grade and compared her accomplishments to requirements for graduation at the Northfield High School. She also looked hard at the admissions requirements at her target colleges. And then, she made some hard (and mature) decisions about time management. To condense three years of math and science into two, she made the difficult choices to put some studies she loves on hold while doubling up on challenging courses, maintaining other core studies, increasing volunteer efforts that call to her, and assuring some time each week for friends and fun.
Tim and I have been very impressed by her work ethic, time management, and general good cheer since Julia began to work her plan in July. We see even more focus…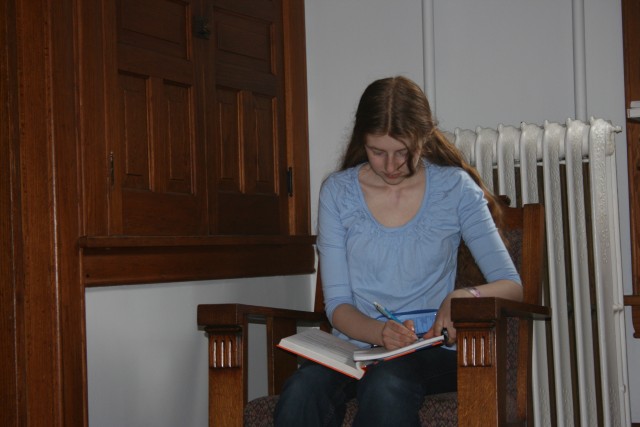 even when life gets a little messy with all the juggling…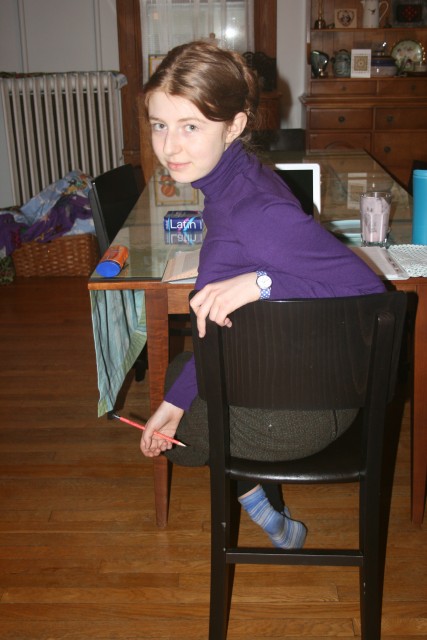 Last spring, Julia set up three examinations (ACT with writing, PSAT, and SAT) for this year. She may add some SAT subject tests in the spring, and is considering Driver's Ed (!!!!!) next summer. She also qualified for Minnesota's Post-Secondary Enrollment Option (PSEO) last spring, so she is able to take classes at South Central College, a community college in Faribault, where she is now five weeks into a five-credit chemistry class–that occupies Monday and Tuesday evenings for lecture and labs and many hours during the week for the reading and homework. Her priorities include:
Chemistry
Honors Algebra II
Geometry
Latin translations
Greek grammar
French grammar and culture
Chinese
Creative Writing-Fiction
Literature-Jane Austen in the fall; Moliere and Shakespeare in the spring, with Edith Wharton and the American transcendentalists to follow
History-currently deep in the study of how the Swedish communities of the late 19th century adapted to transplantation in Minnesota, and planning to seek primary sources at the Minnesota History Center
Folk Dance and Recorder with Kate Stuart  & membership in the Rice County Recorder Ensemble (RiCoReCo)
Volunteer Work-the Education and Communication Committee of the Cannon Valley Friends Meeting, the Northfield Public Library's Books for Children program, and the Carleton Arboretum. She is also volunteering with a new effort through the Carleton College Classics Department–helping to start a Latin club for third, fourth, and fifth graders at Greenvale Elementary School.
Paid Employment — for two years now, Julia has taught beginning piano lessons to a friend, and now Julia is thrilled to haven been able to work this summer at the organic farm where we have a share, Big Woods Farm CSA, and she continues one day a week through the end of October.
To accomplish this, Julia has had to give up horse back riding, regular piano lessons, and participation in the Mexican folklorico dance troupe–all things she truly loves. Lest you think it is all academics, however, Julia makes time for sewing, knitting, reading for fun, watching DVDs on ecology and the cultural history of food, making beeswax candles, creating videos with her friends, remaining diligent with dog care (walking, feeding, tooth-brushing, agility training, and general discipline), and having fun with friends. She is certainly busier than ever, but she is also enjoying most moments of each day. It is hard for us (but not for her) to think that she will be soaring off to college in less than two years.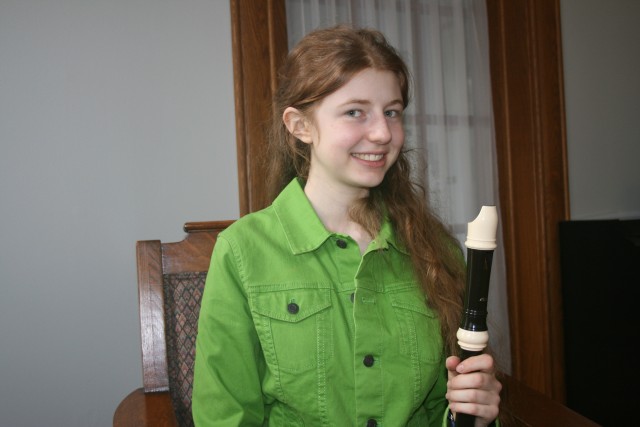 Until another Wednesday, wishing you well!