We began homeschooling when Julia was in the middle of first grade. Her love of languages was already plain, and she began to study Latin that same year of 2006. As I draft this, in 2013, seven years later, she continues to study and love the Latin. This past spring, Julia sat for the National Latin Exam, Level III and earned Summa Cum Laude honors.
For Julia, the ability to connect with and ask questions of a teacher who is a living presence is the best way to learn. To meet this need within the study of Latin, we've tried various approaches. My own knowledge of Latin, though by far from complete, (see the post for June 19, 2013) served for the first several years. For a short time, we participated in Latin with a group of other kids in a class setting facilitated by another homeschooling mother. Since then, we've been aided enormously with tutoring help from St. Olaf College students and neighbor Professor Bill North, co-director of the Medieval and Renaissance Studies program (MARS) at Carleton College.
Along the way, many other resources have been extremely helpful. A few of the most helpful ones are listed below.
We'd love to know what resources you used and what projects helped make learning a blast. Hope some of these ideas spark new ones of your own!
Projects:
Making a beeswax tabula and an orangewood stylus, then using it to write out the Latin numerals
Latin Play – Finally, although we live in a small town where not too many children are studying Latin, one year we were able to work with two other kids (and rope in a few parents) to present a Latin play, complete with costumes, props, and even a video component. We used a short play from Vesuvius and other Latin Plays by Dick Burnell (called "Going Home") all in the style of Roman comedy or drama and (since it was so short) combined it with a reenactment of one of the Forum Romanum newscasts: DD was Marcus Favonius and I reported in via video as Aulus Serenus (a hippy-dippy toga-wearing weatherman; my bathrobe double as a toga). (See below for notes on these two resources.) Eugenia Vlahovic, a talented artist, actress, and playwright, crafted a beautiful program.
A friend brought Julia a paper model of a Roman villa from Rome. The directions were in Italian but we were able to figure out how to build the Roman villa nonetheless.
Roman World and History:
Usborne Latin Words Sticker Book is a fun, easy, interactive, and colorful way for young (or old) students to learn vocabulary and a little about the Roman world.
Detectives in Togas This series by Henry Winterfield features kid detectives who live in the Roman world and solve plausible mysteries. A great way to absorb history along with a good story.
The Story of the World, Volume I : From the First Nomads to the Last Roman Emperor by Susan Wise Bauer is a good introduction to early history, with lots of coverage of Rome. There is a companion activity book if you are ambitious!
Materials from the National Junior Classical League and the American Classical League .They have lots of materials, including texts, games, worksheets, CDs, flashcards, and more. And they are nonprofits, which we always seek to support. One of our favorite activities in the first year or two of Julia's study was a songbook with familiar melodies (like "Twinkle, Twinkle, Little Star") with the lyrics translated into Latin.
To prepare for the Exploratory Latin Exam (offered by NJCL, see above), Julia read an out-of-print book that was available for free online (we printed them out). When I asked her what helped her learn Roman history, she mentioned this right away, though it has been six years since she read them. The first is Famous Men of Rome by John Haaren and A.B. Poland (American Book Company, 1904). She also mentioned Notable Women of Rome: An Activity Pack; this work contains stories of famous Roman women along with worksheets, activities, and crossword puzzles, and was preparation for the Exploratory Latin Exam in 2008-2009.
For more advanced/older kids, we recommend reading Virgil's Aeneid and also his Georgics, and also Ovid's Metamorphoses. Some of the content, as well as the length and the poetic structure, might not be appropriate earlier. Many good translations are available in English. If you would like to know which ones we used, please send me an email (authors@winonamedia.net).
Also for more advanced students, Julia recommends the Teaching Company courses, including Professor Elizabeth Vandiver's courses on Classical Mythology and the Aenied (sadly out of print but perhaps you could locate a used copy) and The Other Side of History: Daily Life in the Ancient World by Professor Robert Garland. We have not yet looked at the ones on Pompeii and Food, but we look forward to those! In fact, after our academic writing class (three middle school girls) finishes John Hale's The Great Tours: Greece and Turkey, we plan to move onto Food: A Cultural and Culinary History, and will then attempt to produce a Roman meal.)
Tabula: The Roman Game is a classic strategy game for two players that has been reissued by the Past Times Company of Oxford, England.
Exams:
Also from the American Classical League and the National Junior Classical League are yearly exams. They are inexpensive to take and give the student a good sense of how much material has been mastered. Also, though the tests are not keyed to any particular text book,  the Leagues helpfully post detailed lists of the material covered on each test, as well as tests and answers for previous years. In 2013, Julia took the National Latin Exam, Level Three, which covered all the basic grammar. She hopes to be prepared to take the Level Three Prose exam in March 2014, and is currently translating short passages each week from Wheelock (See below) which are then emailed to her tutor.
Text Books:
English from the Roots Up, Volumes I & II  (by Joégil K. Lundquist and Jeanne L. Lundquist) These books are terrific for vocabulary building in English while illuminating Greek and Latin roots. They are fun and easy to use, and can help young children easy into the study of Latin or older students prepare for the S.A.T. exam.
Oxford Latin Course (Part I)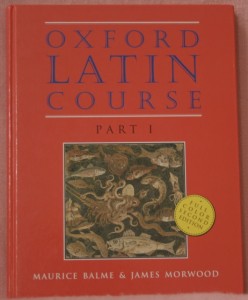 Maurice Balme & James Morwood (Oxford University Press 1996) with CD. Strengths: cartoons in color; follows the dramatic life of Horace the poet in a dynamic time in the life of Rome; color illustrations and maps throughout; solid scholarship. Limitations: for the young student it gets into complicated grammar quickly; also emphasizes upsetting aspects of the classical world such as slavery.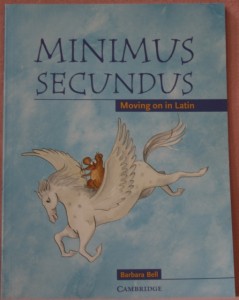 Minimus & Minimus Secundus; Barbara Bell (Cambridge University Press, 2006) CD? Strengths: form is engaging cartoon with a mouse as narrator; set in Britain near Hadrian's wall circa 105 C.E.) Slower pace in grammar for younger students; accurate; myths and culture woven; follows the story of a Roman legionnaire and his family; slapstick humor in tussles between the mouse Minimus and the family cat Vibrissa. Limitation: the series does not cover all the grammar—not even close!
The Latin Road to English Grammar: Volumes I-III Barbara Beers (Schola Publications 2004) Strengths: Taken together, three volumes cover all the Latin grammar; methodology emphasizes repetition (boring but helps to make learning memorized and automatic. Recommend the color-coded grammar chart, the teacher's books, the tests, and the CDs. Limitations: decidedly Christian and uses Medieval Church Latin pronunciation; emphasis on military terms and actions; some scanty, confusing, or contradictory explanations. While this would work for some families better than for us, Julia is more interested in daily life, art, and geography of the classical world.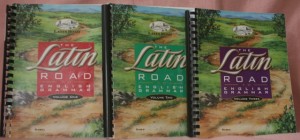 Wheelock  (6th edition) text and workbook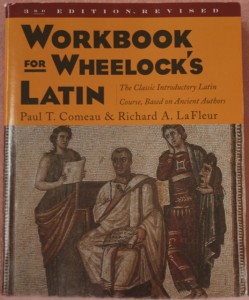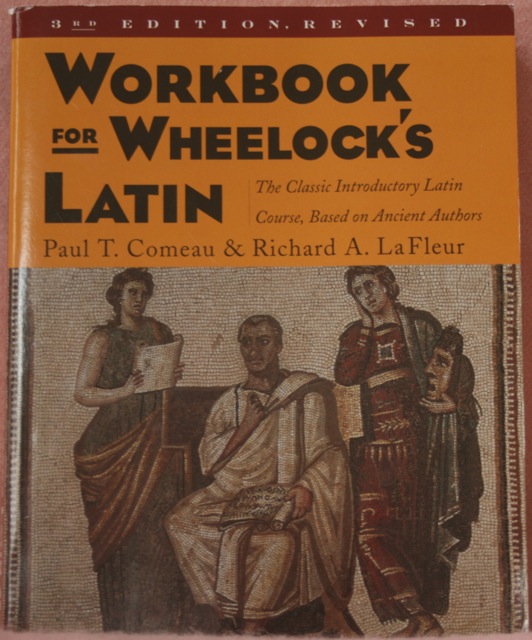 This is a classic resource. Strengths: Clear and engaging explanations and organization; all of grammar in one book; suitable for older students; culture and history woven into lessons; loci antique (passages from Roman authors (with adaptations) and loci immutati (original passages from Roman authors); Limitations: note the text does not contain English translations of these passages but it does for introductory chapters & exercises prior to encountering Roman writers. Primarily text; only black and white illustrations; faster paced (so not as suitable for younger students.)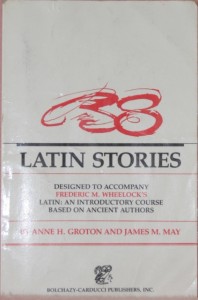 38 Latin Stories  by Anne H. Groton and James M. May(Bolchazy-Carducci Publishers, Inc., 1986). Strengths: supplementary to Wheelock; superb scholarship in a creative format. Limitation: does not stand alone, requires Wheelock or a tutor to use to its full potential.
Forum Romanum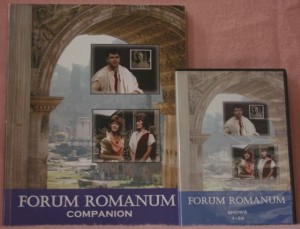 (Published by and available through the American Classical League—see above). Strengths: amusing, video format, teaches history as though you were part of the Roman world. Get to hear many voices speaking Latin with Classical pronunciation; companion transcript. Good structure with repetition & questions to facilitate learning & retention; good for group viewing. Limitations: requires some foundation in Latin to understand; no English translations.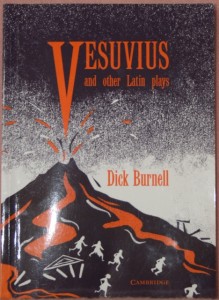 Vesuvius and Other Latin Plays by Dick Burrell (Cambridge University Press, 2006). New short plays in Roman style with Roman characters; Strengths: good to use with a group to reinforce grammar. (This provided half of our Latin Play program for 2010. It is very useful to have to memorize Latin dialogue.) Limitations: Requires some foundation in Latin to understand; no English translations.