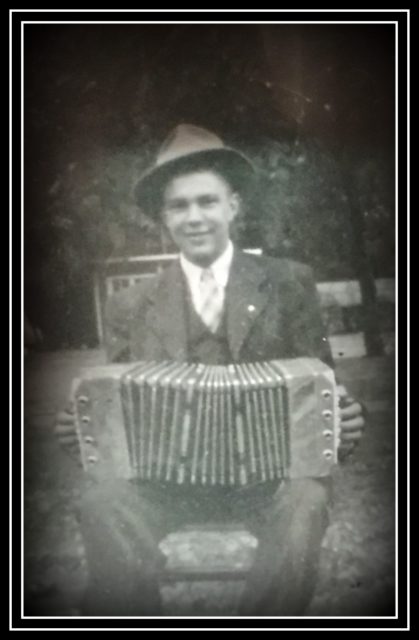 My father-in-law, James Lawrence Braulick, (February 4, 1927 to August 23, 2017) was a man filled with music, gentle joshing, and a steady kind-heartedness that is as rare as it is precious. Born to a farming family in Stark Township, Minnesota, near Sleepy Eye, he married Elaine Rose Forst on November 16, 1948. On their wedding night, they moved to their own farm near the small town of Searles, Minnesota (not far from New Ulm) where they farmed for the next forty-eight years.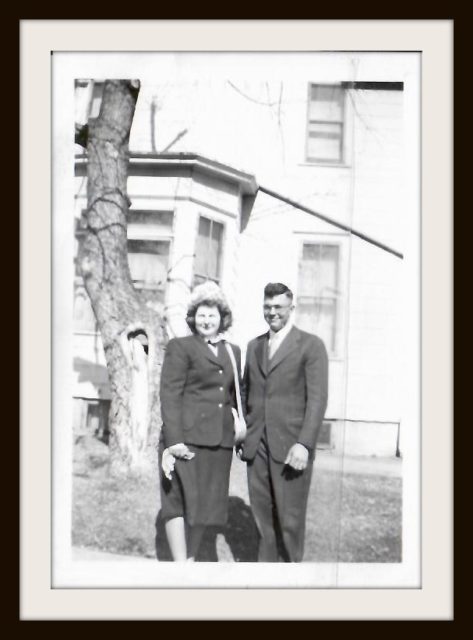 When I was a eight years old, like so many others young girls in modern suburbia,  I was entranced by the homesteading stories of Laura Ingalls Wilder. My best friend, Brenda, lived on a farm. I plotted and planned to live on a farm (after prudently obtaining a college degree) and to do without electricity and fossil fuels. Instead, I married Timothy Braulick, a man who grew up on a farm. Each year, for thirty years, Tim and I bought a share in a CSA (Community Supported Agriculture) farm and visited his family who still farmed, often taking our daughter, Julia, to Tim's boyhood home for family gatherings–tree-planting, bonfires, and apple-picking.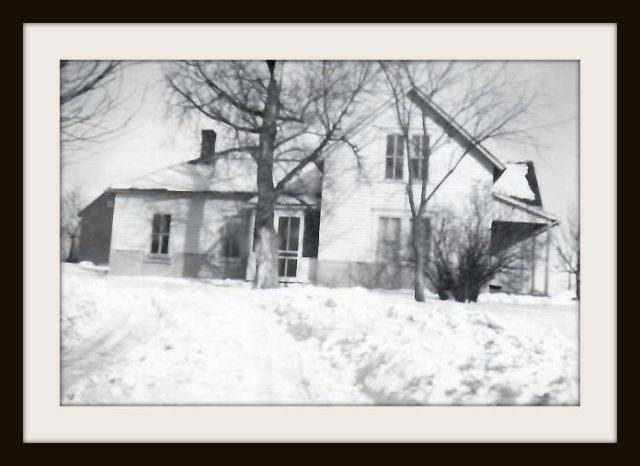 Part of the joy of traveling to the country of Tim's boyhood is hearing family stories. I heard how James left school after third grade to help his family on their farm, and how he fell as a pre-teen doing field work and damaged his hip badly. His parents, Leo and Clara (Wurtzberger) Braulick, worried that he wouldn't be strong enough to continue with farming. Concerned about his future, they bought him a concertina and arranged for music lessons so that he would have a way to make a living. Although he always walked with a limp, James Braulick was blessed with a strong physical constitution and a cheerful, optimistic nature.In time, he grew well and strong enough to climb up onto a wagon or a tractor, to care for animals, to lift bales of hay, to use pitchforks, shovels, and hammers again.  Although he was always drawn to music and such social events as church picnics, dances, and local ball games, he opted for the all-encompassing life of a farmer, husband, and father of ten children, eight of whom survive him.
Stories allowed me to imagine how Elaine and James (whom I called "Jim") first met at a local dance. They continued to love to dance and were particularly adept at the waltz and the polka. I heard how they had electricity in their farmhouse from the get-go, thanks to rural electrification, but had no running water in the house until 1963. They depended upon oil stoves to provide warmth through the long Minnesota winters. Central heating didn't enter their lives until the late 1990s when they retired to a little house in New Ulm. I remember keenly their glee at moving a few steps across the room to nudge the thermostat up a notch or two when the wind rose and the mercury sank. It was a pleasure that never got old.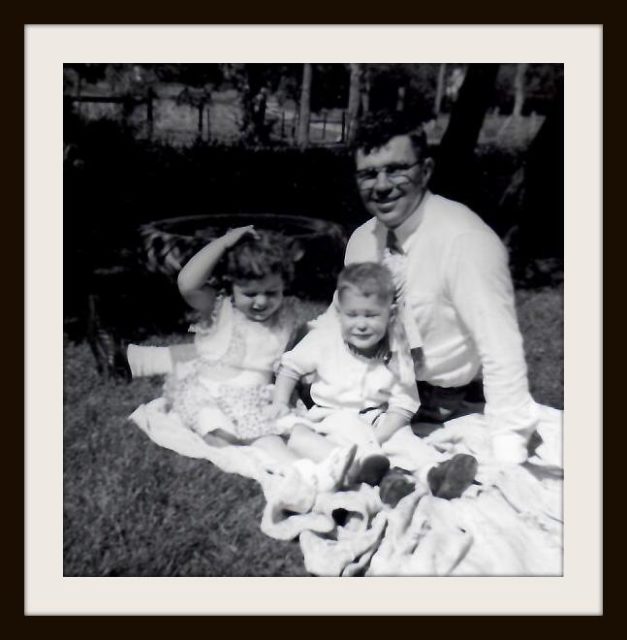 (James with Michelle and Jay)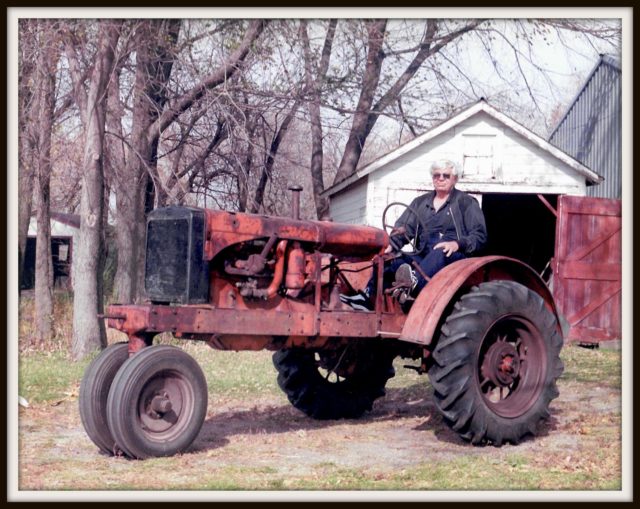 (The above beautifully composed and expressive portrait was taken my brother-in-law, Thaddeus Braulick.)
James originally plowed his fields both with a team of horses and with this small Alis-Chalmers tractor, a wedding gift from his parents. In his retirement years, he and his sons restored this tractor to new luster, and he drove it proudly in local parades.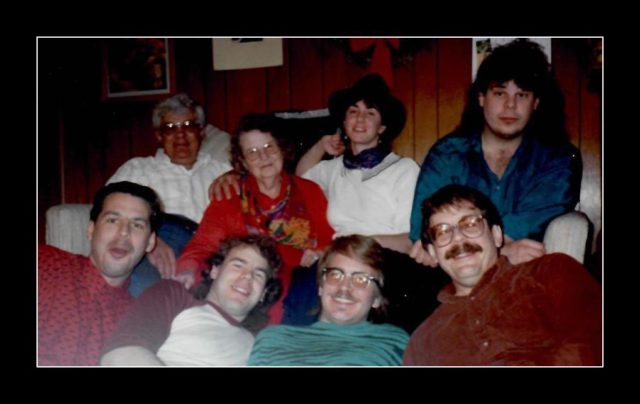 (Christmas at the farm, 1989. Back row: James, Elaine, Leslie, Luke; Front row: Nathan, Thaddeus, Stephen (Nathan's partner), and Tim)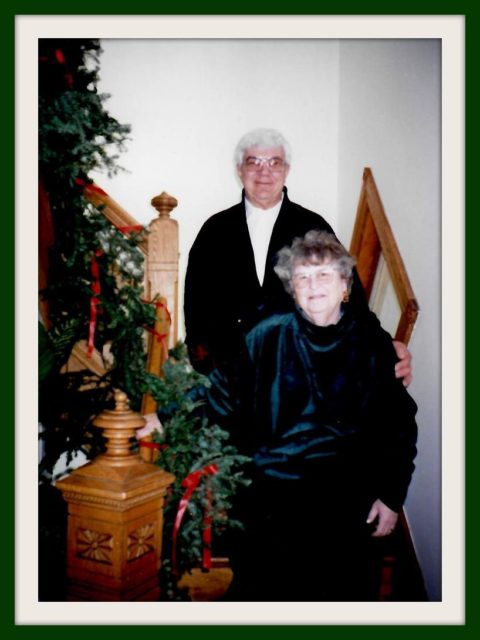 (Christmas in the city: James and Elaine at our house in Minneapolis in 1993)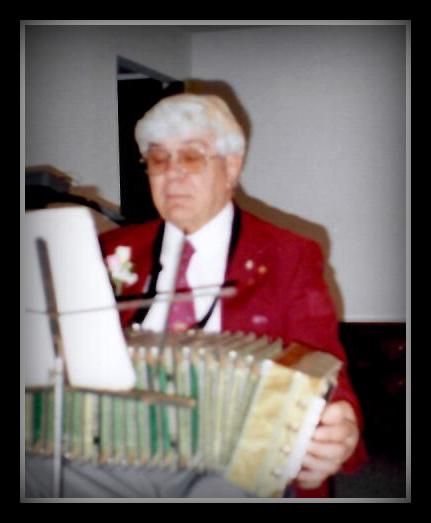 After hearing so many stories about Jim's playing, but never having heard it myself, in the summer of 1998, I asked him: Would he ever play something for me? I did not realize when I asked this that his fingers were not as limber has they had been in his youth.  That Christmas, when we all gathered at the house of Thaddeus and his wife, Wendi Smith, Jim surprised us all with a special gift of music, playing several songs he'd practiced throughout the fall. It was at the same family gathering that Tim and I shared our news that we were expecting Julia to be born the following July.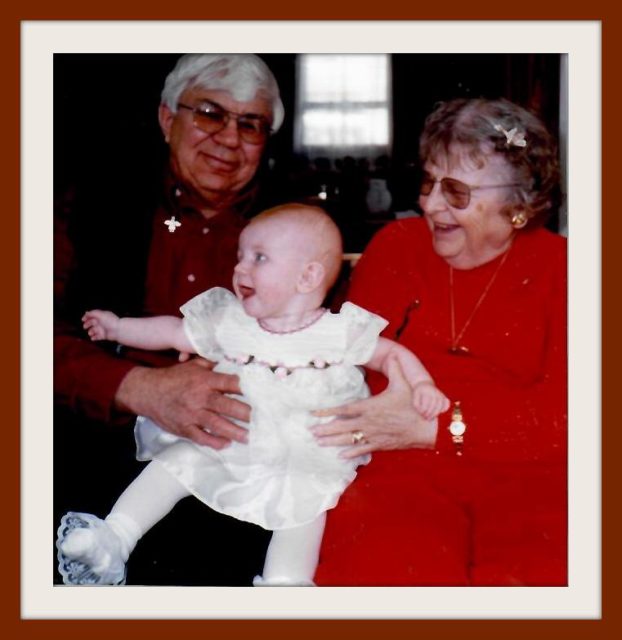 By the time Julia was born, Elaine and Jim were experienced grandparents, but experience did not diminish their delight in getting to know one more child.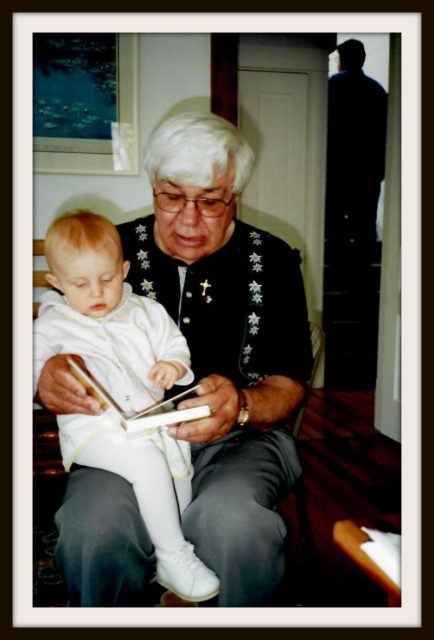 (Julia, mesmerized by Grandpa's reading; Northfield, 2000)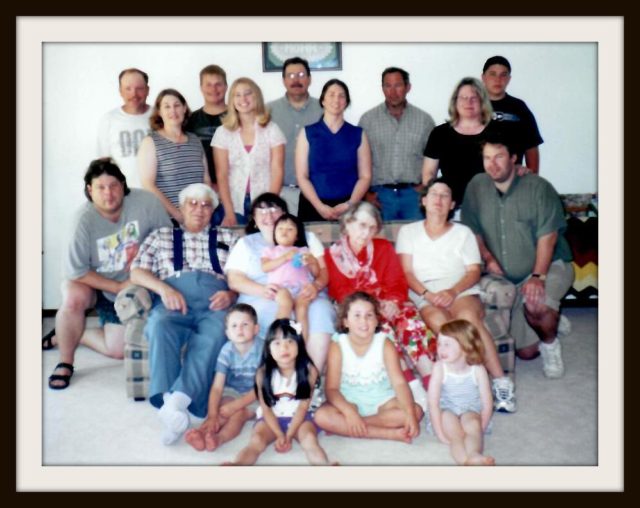 (Family gathering at Mohr Century Farm, home of Marea (Braulick) and Myron Mohr, 2003. Back row, left to right: Myron Mohr, Marea Mohr, Brandon Mohr, Nicole Mohr, Leslie Schultz, Timothy Braulick, Jay Braulick, Wendi Smith, Andreas Braulick; Center row, left to right: Luke Braulick; James Braulick; Michelle Braulick; Megan Armentrout; Elaine Braulick; Risa Braulick; Thaddeus Braulick; Front row, left to right: Ray Eichten, Molly Armentrout, Eleanor Eichten, Julia Braulick.)
James Braulick lived his life with fortitude and easy good cheer. He had many challenges over the years–not the least of which was a debilitating stroke in 2009 that paralyzed his right side and compromised his ability to speak. That health crisis necessitated a permanent move to Oak Hills Living Center in New Ulm. Jim being Jim, it was a place where he made many new friends among the residents and staff (and later on enjoyed the company of his eldest grandchild, Nicole, who joined the staff to head up their Human Resources department.)  A few years into his tenure, some of the staff planned an unofficial visit for themselves and their families to the Renaissance Festival held each year near the Twin Cities, about two hours drive from Oak Hills. They wanted to include James, and so they rented a van with a wheelchair lift to accommodate him. I love to think of him hearing the lute music and the trumpets, watching the galloping horses carrying jousting knights, and tasting the Medieval food and drink. I am pretty sure that no one had a better time than he did.
In his last weeks, he was filled with quiet joy in welcoming his third great-grandchild, born in June. On what turned out to be the final visit Tim, Julia, and I had with him, last August, Jim was peaceful. Our nephew, Brandon, his wife, Cami, and their son, came with us. It was hard for Grandpa to talk but he smiled at the way newborn Carter Mark Mohr was growing bigger and more alert. He noticed the way I was wearing my hair longer and told me it was pretty, then squeezed my hand. He looked deeply at each person and made contact with each of us.
That afternoon, I noticed an ear of golden corn on his window ledge, near to hand. He said it was one his son-in-law, Myron, who now farms his fields with Brandon, had brought him the year before, grown in the same acres he used to till. One ear stood for the million or more Jim helped to grow. I often think about my father-in-law and of the good harvest he worked for and gathered in during his ninety years.
James Braulick was a man rich in hope and rich enough in love to scatter it freely wherever he went. His memory still bestows gifts to those who were lucky enough to encounter his gentle hand, his infectious laugh, his faithful heart.