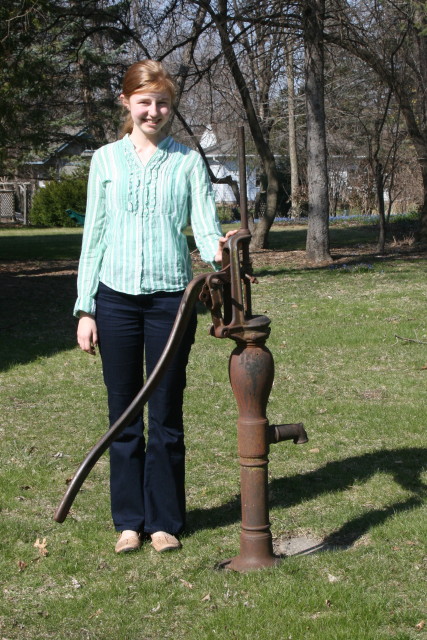 The 2016 winners of Northfield's Sidewalk Public Poetry Contest have been announced!  (Clicking on the above link will allow you to see the names of the winners AND their poems.)
The poet I know best is pictured above near the inspiration for her winning poem–a neighborhood icon.
And in April, National Poetry Month, there will be two chances to hear the poems read by and discussed by the poets. First, on Friday, April 15, 2016, many of the poets will be guests on KYMN's(1080 AM) weekly radio show, ArtZany!, hosted by Paula Granquist. The show airs from 9:00 to 9:40 a.m. every Friday and is rebroadcast on Saturdays at 9:00 a.m. The past shows are archived and be accessed on line anytime at the link above.
Second, on Friday, April 28, 2016 at 7:00 p,m., the 2016 Sidewalk Poets have been invited to read their work at Content Bookstore — Content is Northfield's independent bookstore located at 314 Division Street.
Can you believe it? This is Northfield's 6th annual celebration of Sidewalk Poetry. This partnership of the Arts and Culture Commission, the Friends of the Library, the City, and SEMAC (with funding from the Minnesota Legacy Fund) has born amazing poetic fruit. Look for new impressions of old favorites around the renovated Northfield Public Library later in the year. Come August, join other poetry lovers at Bridge Square for the annual capstone celebration–stay tuned for a date on that.
And finally, don't forget that many Northfield businesses and organizations, especially along Division Street, participate each year in the Northfield version of National Poem in Your Pocket Day! This year, it's Thursday, April 21. Look for the red boxes, and be sure to take a poem home in your own pocket! Here is a photo from the very first Northfield celebration back in 2013.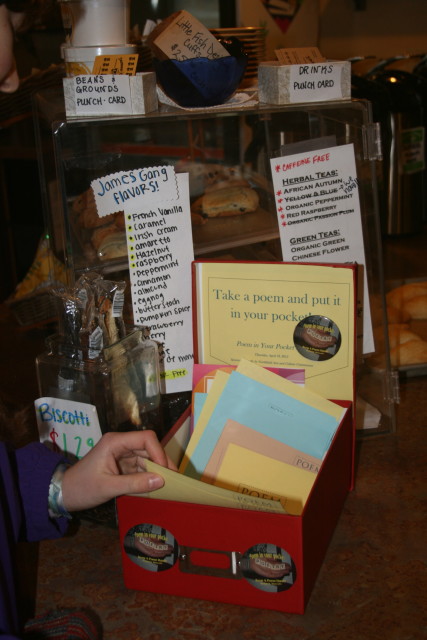 Have a Great April!
Leslie