It is a thrill and a privilege to watch as a new book takes shape. Last week, I was able to hold in my hands the first book by a long-time friend, poet Sally Nacker. It is beautiful inside and out.
Most of these poems were written in the last few years, while others began to take shape long ago. All share the same clear voice. Each surprises with its own music and insights.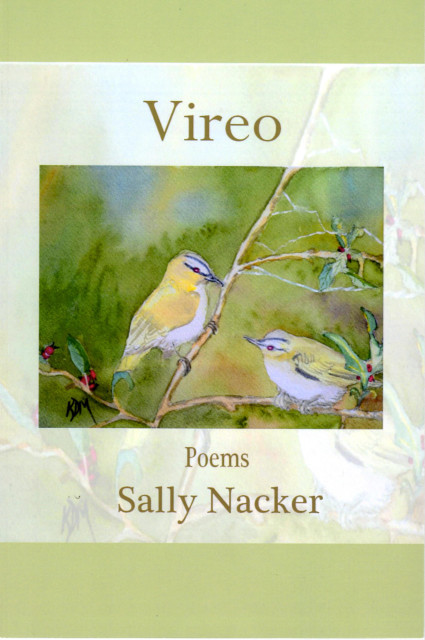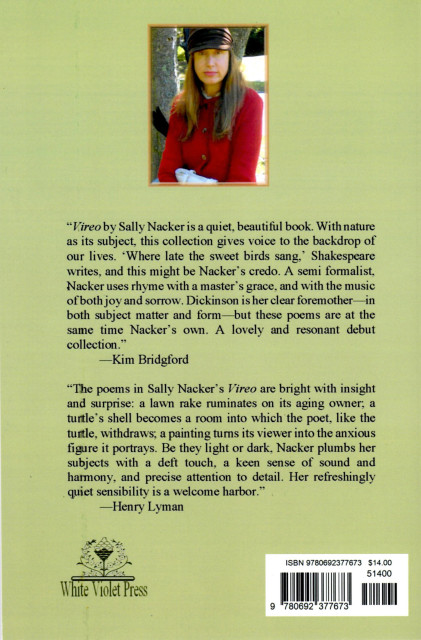 (Regular Winona Media readers will recall–and might want to re-read–Sally's lushly illustrated and sensitive letter to another poet, Amy Lowell, posted on May 23, 2014.) Sally will be reading at the Fairfield University MFA reception at the Association of Writers and Writing Programs conference on April 9, 2015 in Minneapolis. She will also be a featured poet at Kim Bridgford's Poetry by the Sea conference in Madison, CT on May 26, 2015.
This lovely volume, Vireo, was published under the White Violet Press imprint of Kelsay Books. The cover art  is an original watercolor by artist Kathy Michaud.(Scroll down for more on Kathy.) You can find Vireo for purchase at Amazon.
CONGRATULATIONS, SALLY!
Wishing you all well, Leslie