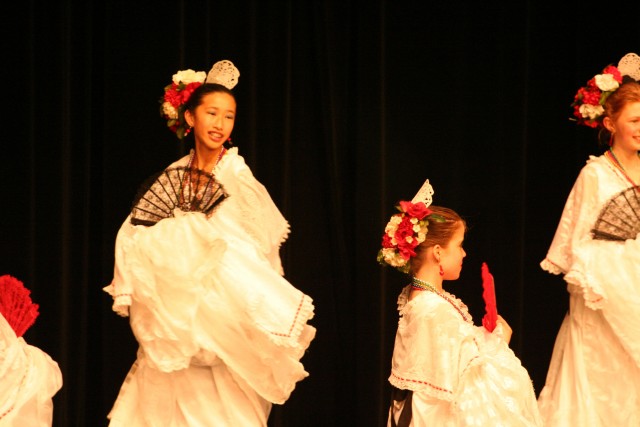 For the past six years, I have received an education (from the sidelines) of the vibrant, joyful intricacies of Mexican Ballet Folklorico. In addition to learning about the traditional dances of several Mexican states, I have been able to watch the evolution in skill and confidence of Atia Cole, who is now a veteran dancer with eight consecutive years—more than half of her life—in the Northfield Arts Guild program founded nine years ago. Atia has also explored a number of other dance traditions, including world folk dance, (Chinese, Israeli, Bulgarian, Scandinavian,and Romanian) Indian dance, the dances of Jane Austen, modern dance, and ballet. In 2013, she participated in a workshop with the celebrated Ragamala Dance Theater on classical Indian dance.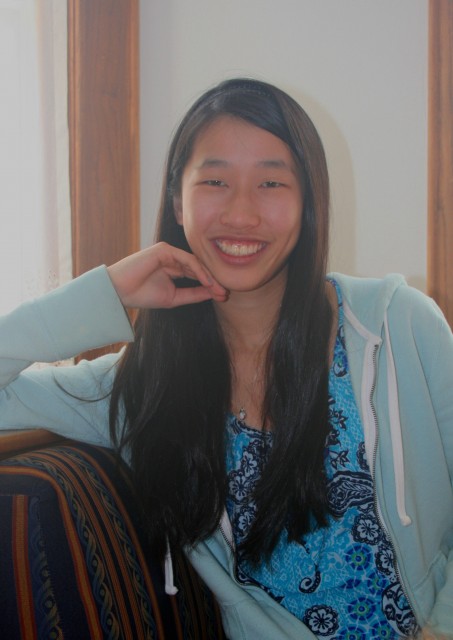 Welcome, Atia! Would you share with Winona Media readers what your interests are and what draws you to dance?
Sure! I like to read the Warriors series, the Lord of the Rings series, and I have read the whole Harry Potter series. I like Jane Austen—the movies have made me interested and now I am reading her novels.  For anyone who hasn't seen it, I recommend the Bollywood adaptation, "Bride and Prejudice". I like the coast of Maine. I love being by the ocean and the rustic scenery. It is very peaceful. I am especially fond of Monhegan Island. I used to want to be a vet, but I am leery of surgery and seeing blood on a regular basis, so I am less sure that I will go into veterinary science. I am still drawn to work with animals, though. I might become a dog trainer.
In terms of my studies, I like science and English best. I especially like creative writing. (Note to readers: Atia's fine poem, "Forest Crafted of Ice", was recently published in the regional anthology, Wordflow and can be found in the April 1, 2014 post.) I love drawing, folk dance, playing the recorder, and horseback riding. Math and Chinese are subjects I have to work at.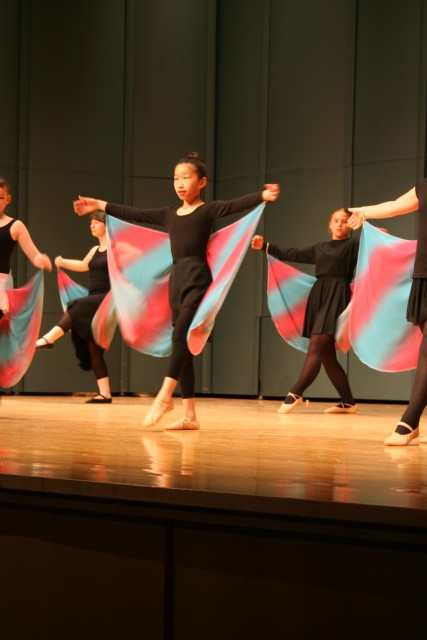 Do you remember your first exposure to dance?
I remember being part of a summer 'Chance to Dance' camp at the Northfield Arts Guild when I was about five years old.  It's funny but I don't remember dancing. What I do remember is seeing this girl—Julia, who has turned out to be a very good friend—and really admiring the leotard she was wearing. It was royal blue and had a chiffon skirt that floated.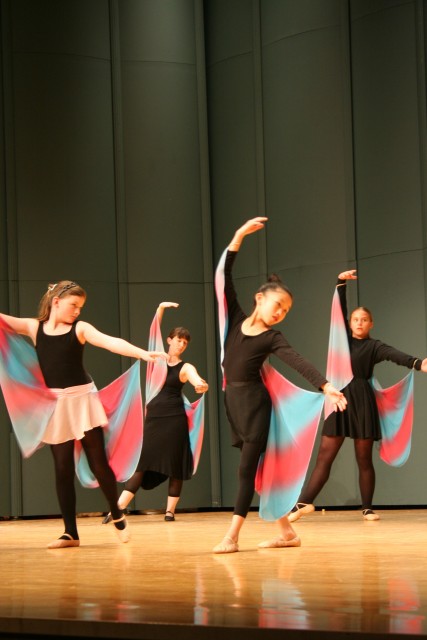 I like being on stage when I am dancing, not if I am in a play with lines to say.  Dancing just makes me happy. And I have two great teachers, Ana Baez, who has decades of professional experience in Mexican Ballet Folklorico, and my mom, Kate Stuart, who knows about (and teaches) many folk dance traditions and is the assistant teacher for Ana. (Mom also makes and cares for the amazing costumes we wear.)
What is it like to wear those costumes?
I love to wear them, and they are essential to creating the dances. Part of what we do is called "skirt work", which means lifting and moving the skirts.  In Sinaloa dances, for example, which is near the sea, we move the skirts to make them look like waves. We use the skirts to add more to the dances, to amplify the sounds and movements we make with our feet. The skirts are so long that most of the time our feet cannot be seen, just heard. Without a skirt, say if the dancers were wearing leotards, the movements would be meaningless: our hands would be clenched and our arms would be lifting and swinging in air. It would look odd. Mexican Ballet Folklorico dances tell cultural stories, and the skirts are part of that. With skirts, we can create dramatic movements and shapes, as in plate turns. Even in classes and for practices we put on 'practice skirts'. We save the actual costumes for the performances.
What dance challenges have you mastered? Which ones are you working now to refine?
The first year that we learned the dances from the state of Nayarit, Anna didn't teach us the plate turn. Most of us were very young. Our arm muscles weren't developed, so we couldn't hold all of the cloth up and still move our feet in the right way. We just sort of shuffled around the stage. The next time we did the Nayarit dances,  maybe two or three years ago, she taught us the plate turn. We could do it. Even though it looked sloppy, not crisp the way Ana does it, we all had fun with it. I am still working on it. I am learning just when to raise and drop my arms. If the dancer is a half-a-beat off, the skirt doesn't look like a plate when the turn happens.  Of course, Ana is a master. It is so inspiring to see her slip into the plate turn so effortlessly!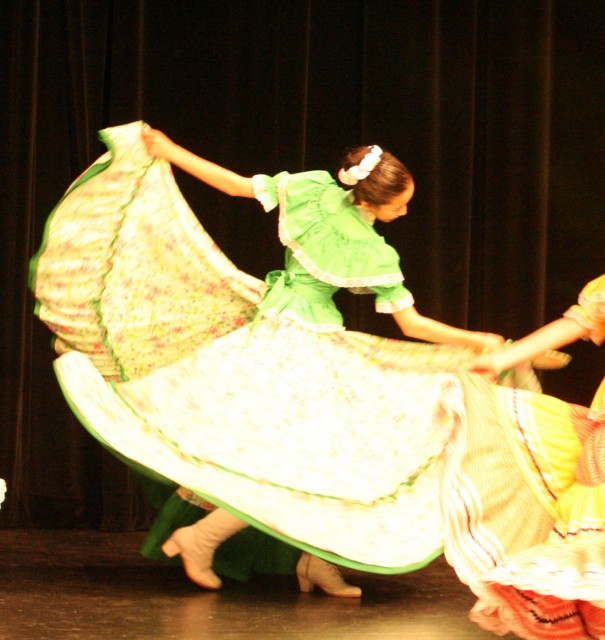 A benefit of years of practice?
Definitely.
We also did a dance last year from Veracruz which was challenging in two ways. In that dance there is no music. All the sounds come from our feet, so any mistakes are much more audible and obvious. If one dancer is off, she can throw everyone else off. To amplify the sound, we danced on wooden boxes, about eight inches from the floor. They provided each dancer with her own small stage, about two feet square.  After first, I felt very timid because I didn't want to fall off. That's never happened but it still scared me a bit. Now I am more used to it. When I last performed that dance, I was able to be more open,  and not to look down or look worried.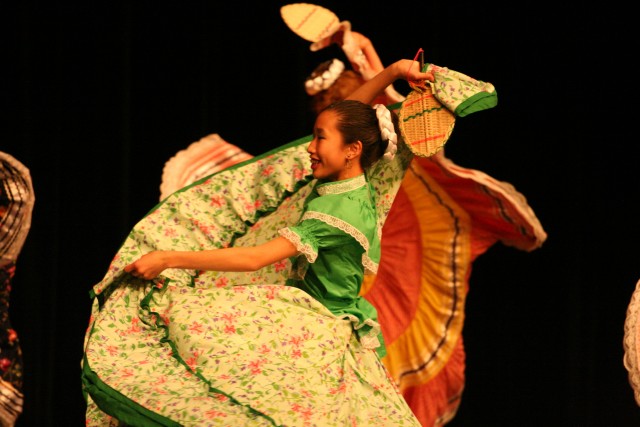 I have noticed that confidence in dancers seems to move from the feet, up through the torso, into the arms and shoulders, and finally into the head. From what I have noticed, the face is that last place to be relaxed, smiling. I think you have achieved that. What do you think?
I don't know. Maybe!
When we first start working on dances from a new region, I feel very self-conscious about how I look. Partly because the teachers are pointing out lots of things I am doing wrong. They have to, but it is hard to accept corrections. Then, with practice, I start to feel more confident. More graceful and fluid, I guess.
Speaking of 'fluid movement', you have mastered a dance in which there is a glass of water on your head. What was that process like?
That was really challenging at first! Gradually, we all found we could loosen up, replace timid, tiny steps with rapid, self-assured steps. That dance is one where you have to think about the connection between what you are doing with your feet and how you are holding your head!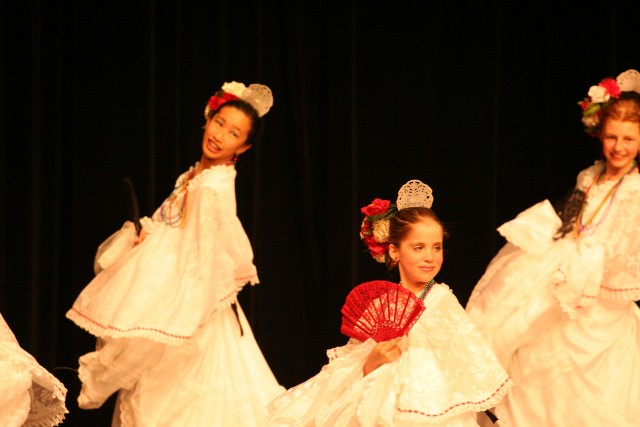 Over the past eight years, you've explored dances from Nuevo León, Nayarit, Veracruz, Sinloa, Tamaulipas, Durango, Jalisco, and Tabasco—each with a distinctive style. Do you have a favorite style?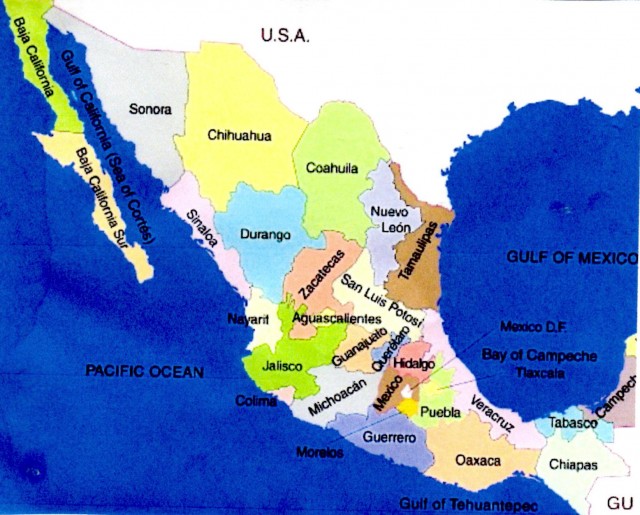 I really like the one we are working on now, Tabasco, because I like to learn new things.
Do you ever get stage fright?
Yes, sometimes. Right before a performance starts. But that fear goes away when I start to dance.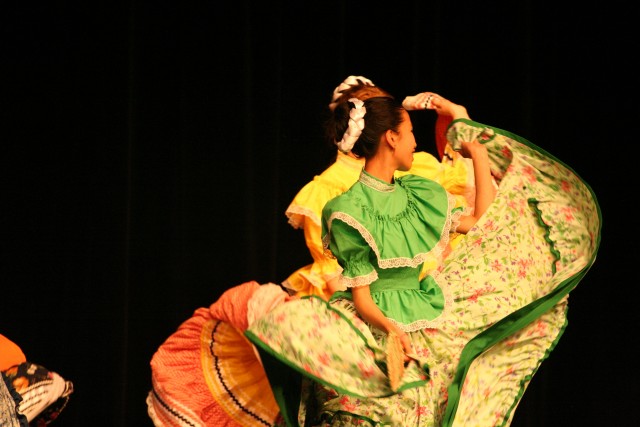 How do you feel after a performance?
That depends on two things: how the performance went and which performance it was. Sometimes we'll make mistakes that never happened in practice. If something goes wrong, I am not as happy. And when it is the May recital, something we work toward all year, it matters all the more. But I really love to dance in front of an audience so they can see what we've been working on.
Has your Mexican Folklorico dance help you learn any Spanish or anything about Mexican culture?
I have only learned a few words of Spanish. I think I have learned more about Mexican culture from the people in some of the places where we have been invited to dance. For example, my first performance was in December 2006 for the Lady of Guadalupe. We first participated in a long procession in the parking lot, following her statue, and then sat through a two-hour long Mass in Spanish. And after we had a chance to taste some of the food.  At these events, and at Cinco de Mayo, I am always surprised by how loudly the music is played. I suppose I have learned most about the culture of Mexican immigrants rather than the culture of Mexico itself, since I have never been to Mexico.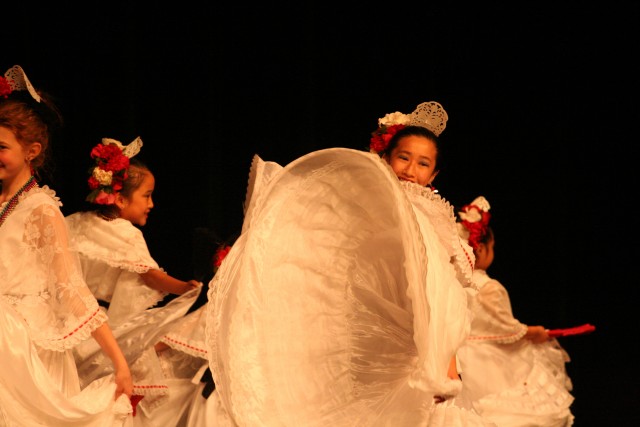 Are you thinking of exploring any other dance forms in the future?
I am not planning anything definite, but I am attracted to ballet and the way classical Indian dance is updated for Bollywood movies.
Thank you, Atia!
You're welcome!
 Note to readers in the Northfield area: the Northfield Arts Guild's annual dance concert, held on May 17, 2014 at the Northfield High School auditorium, will showcase several dances from the local Mexican Folklorico company, as well as a variety of choreography from the other NAG dance programs. For more information and to order tickets, go to www.northfieldartsguild.org.