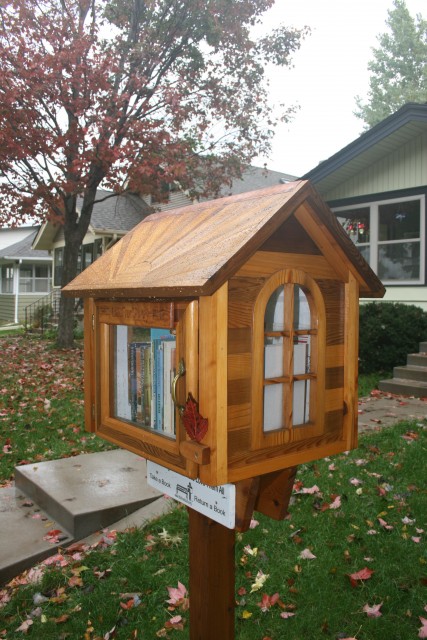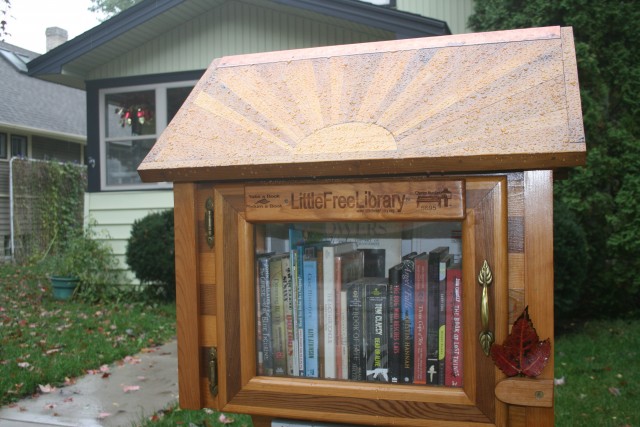 Doll's house? Bird house? Spirit house? Picturesque junction box?
Chances are, if you have spotted a small house-shaped structure raised to mailbox height, it is a Little Free Library.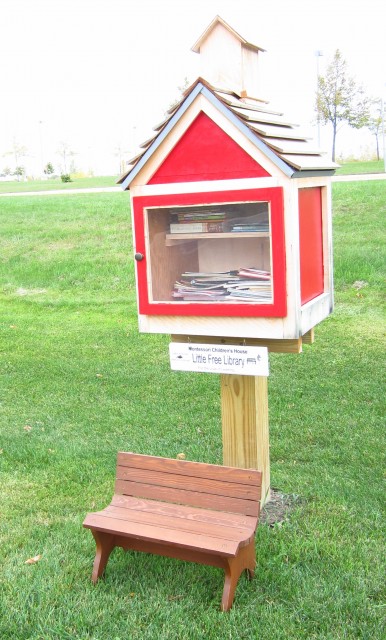 (This one is outside a Montessori school in Northfield.)
In Minnesota, there is a real mystique about morel mushrooms. If you have ever found one yourself–or even eaten one (sauted in butter and garlic) yourself–then you know that they are to be prized wherever they pop up. Recently, perhaps two years ago, I started noticing little doll-house-sized libraries popping up, clearly the result of people who prize the deliciousness of curling up with an as-yet-unread book. When I learned that my friend, Ann Lacy, a voracious reader and former librarian, had one, I asked her to write a few words about the experience.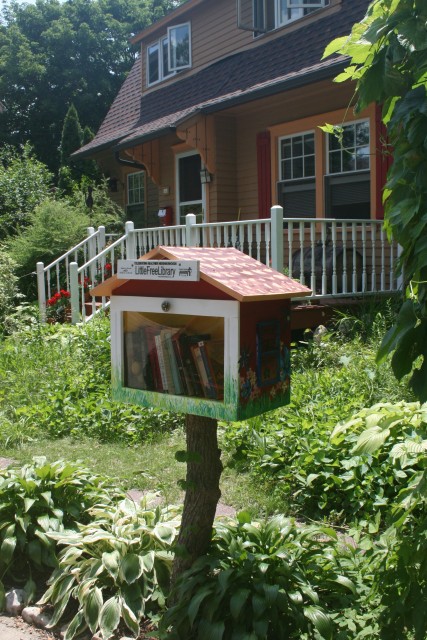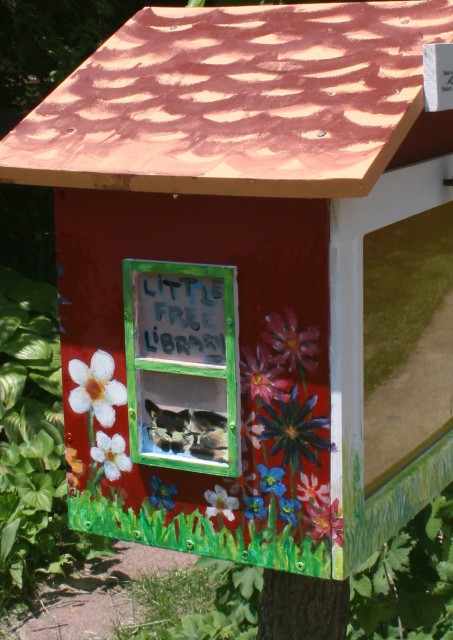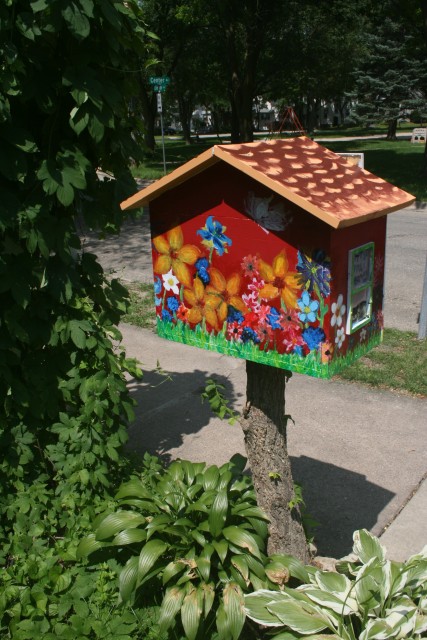 Why I have a Little Library
I love books.  I love to read books, to read about books, to browse and own and accumulate books.  And I like the idea of passing on books I no longer want to others who might want them, so when  I first started noticing Little Libraries maybe five years ago—now my neighborhood is studded with them (like jewels, only so much better)—I knew that I would like to have and stock one myself someday.   Someday would have been never, due to my doubts that I could make anything other than a lopsided leaker, but fortunately, I share my home with an engineer.  And so, last year, I downloaded the plans from the website, and described to Steve what I would like (one shelf, tall enough to accommodate a picture book, a windowed door making it easy to view titles from the outside) and he took it from there, using wood from what had been a craft table when our children were small, paint left over from the exterior of our house on the Library's exterior, and from our sunny yellow kitchen on the interior, buying only hinges and a plexiglass panel for the door, and enlisting the assistance of our artistic daughter Katarina when she was home on break to decorate the exterior with flowers and felines.  Our Library is mounted on a section of freshly cut tree branch scavenged by Steve while running in a riverside park past city workers pruning;  hops from the Steve's nearby hop arbor twined around the base this summer and fall, and in the winter it has been adorned with a string of blue Christmas lights and often impressive icicles.  The Library began its time in our yard shaded like the front of our house by a city maple tree, which we lost to a dangerous crack in the trunk in early summer—a loss the residents of the house felt keenly in the heat, although the Library itself seems impervious to weather.  I have put many books into the Library, and taken some books from the Library, and numerous people known and unknown to me have done the same.   It is an entirely satisfying thing, like having a year-round bubbler in the front yard.   Ann Lacy
Most Little Libraries seem to be tended by individual families. Last month, however, on a visit to our old Minneapolis neighborhood of Linden Hills, I gasped in surprise: Shades of Snow White!  There were seven dwarf libraries in a row!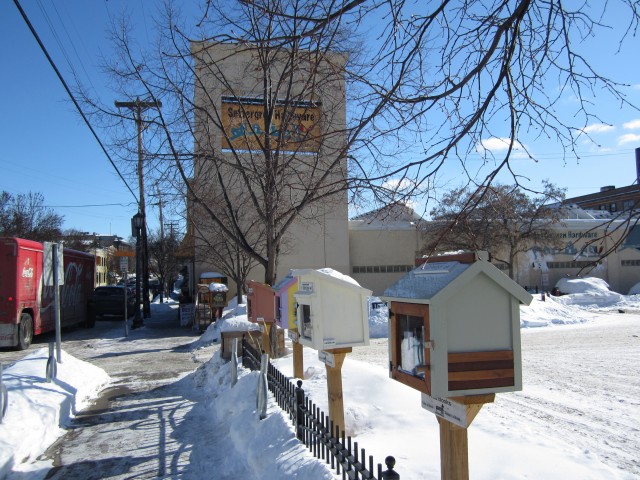 I had never before stood where a person with long arms could have borrowed from two libraries at once! And as I looked closely, these were sponsored by the locally owned businesses that make this area so lively and attractive. Each had its own personality.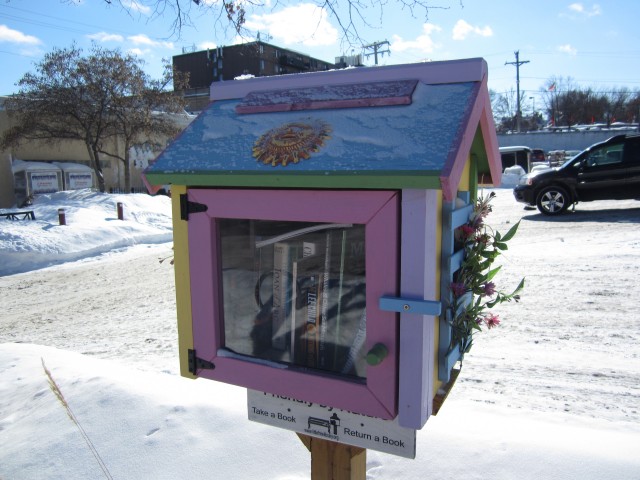 On Northfield's streets, too, Little Libraries are springing up. One that I have particularly admired is at the Swanson home on a tree-lined main artery where I often walk in good weather, St. Olaf Avenue.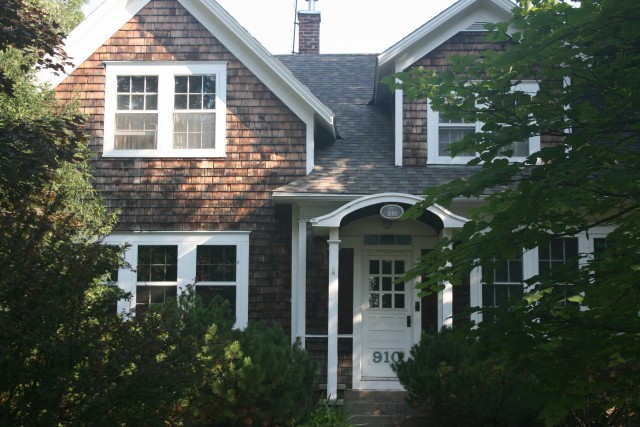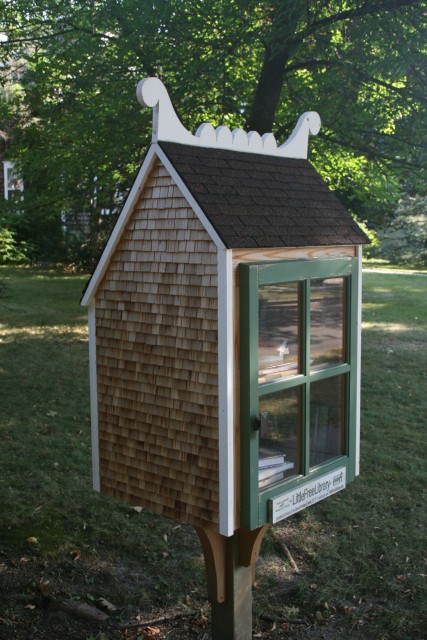 Recently, I talked with Judy Swanson. She told me that the library was built as an 80th birthday gift for her husband, Steve, a retired teacher and author of many books. Their son modeled the structure along the lines of the shed that sits farther up the drive. Both the shed and the library sport a dragon ridge along the roof, while cedar shakes cover the sides.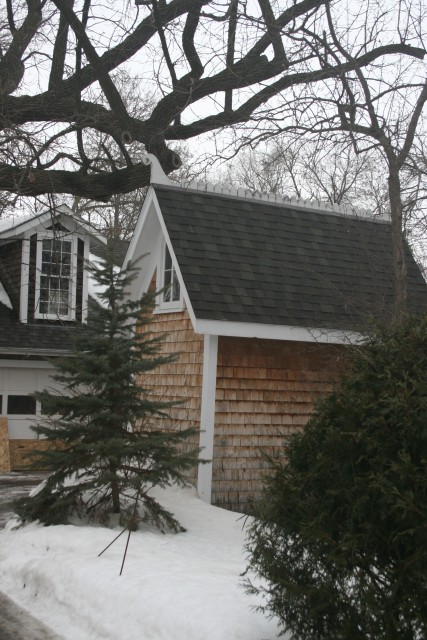 The style's elegant lines are an expression of the love the Swansons share for all things Scandinavian, especially design. It has been in place since the summer of 2012, about eighteen months now. The library is stocked with many kinds of books, including copies of Steve's titles. Users immediately understood the concept, and the stock turns over because often people leave one book when they take another. I asked Judy what it is like to be caretakers of a Little Library, she had this to say:
"It is a joy that nothing can diminish, not even the three episodes we've experienced of Saturday night vandalism. Actually, I could tell dozens of stories, but here are just two, both resulting from the character of our street, which has a lot of foot traffic. A neighbor overhead  two young girls say, "Let's meet at the little library." It was interesting to know that it is sometimes a destination, a rendezvous point. Another time we were out working in the yard, and a young woman jogged by. Without breaking stride, she waved and called, "I loved your book!" Steve was pleased; what author doesn't like to know his work is being read and appreciated.
"As a trend, I think these libraries are a friendly way for people to connect, even if they never actually meet in person," Judy said.
Recently, the Swansons' grandson, who has a Little Library a few blocks away in front of his own home, decided that just as his grandparents house has out-buildings, so, too, the Little Library needed one. The remedy he designed and provided now rests at the foot of the main library building.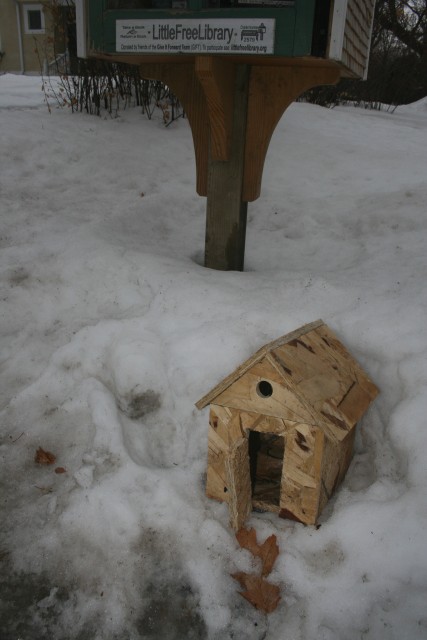 Here is another Northfield example, at Linden and Greenvale: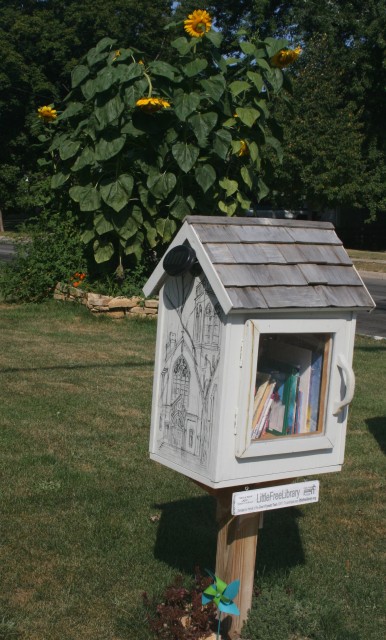 And below is a Minneapolis example that appears to have adapted a kitchen cupboard for library use. Its sign is clearly hand-lettered. I think it makes the (jauntily colored) chain-link fence appear positively friendly. This is the location where, last year, I found a copy of a book I had been meaning to read for at least a decade: The #1 Ladies' Detective Agency by Alexander McCall Smith. I was driving past, planning this post, actually, and approached only to get the photograph. But I simply couldn't resist the book! Since then, I have read through the entire series. (I borrowed the others from the traditional Carnegie Library a few blocks from my house). I had many winter hours enlivened by that chance encounter with a "freelance" Free Library. Maybe this year I will be able to find it again and replace the book I took with something else that another person might be happy to find! (Note that this location also offers bookmarks!)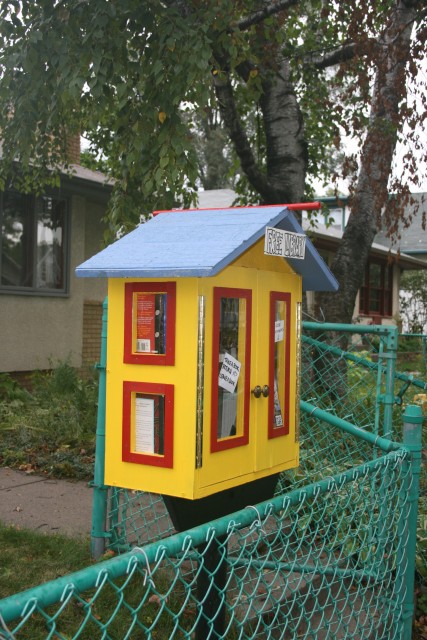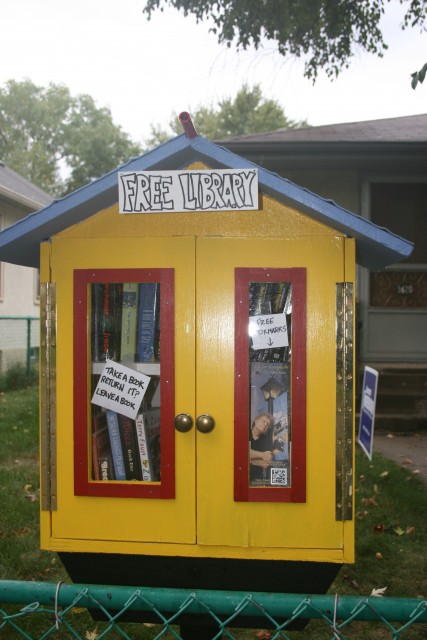 Do you have a Little Free Library or an informal "Little Freelance Free Library" outside of the network? Do you think you might create one? Or  have you patronized or just enjoyed seeing them in your area? If so, please drop me a line or send a jpg. I am very curious about this social and civilizing trend. As for us, well, Tim and I have been talking…stay tuned! Perhaps there will be a ribbon-cutting ceremony on Winona Street in the next year or two!
Thank you for reading this! If you think of someone else who might enjoy it, please forward it to them. And, if you are not already a subscriber, I invite you to subscribe to the Wednesday posts I am sending out each week–it's easy, it's free, and I won't share your address with anyone!