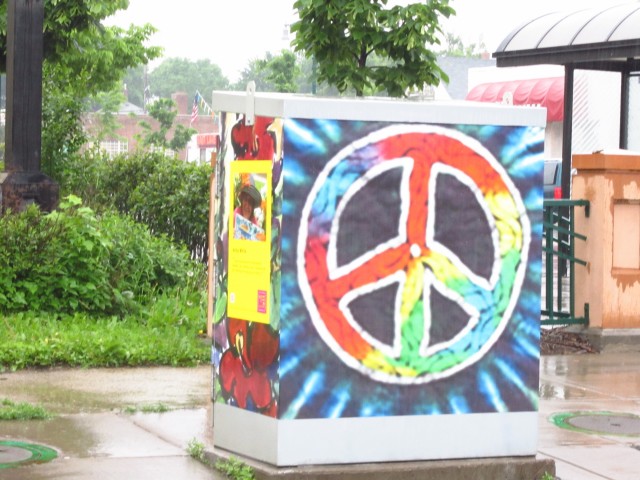 This morning, when it is tempting to feel quite downhearted about stalled government at the national level, I want to shift focus to some truly inspiring examples of partnerships between local governments, local communities, and local artists. Maybe these two examples, from Minneapolis, Minnesota, and from San Jose, California, will give you, too, a moment of respite by reminding you of the ways we join together to make things better.
What is more ungainly than a utility box or service door, unless it is one that is covered in graffiti? Today, I want to celebrate the way two cities are thinking outside the box by combining vandalism abatement, urban beautification, and support for neighborhood artists–many of them young people.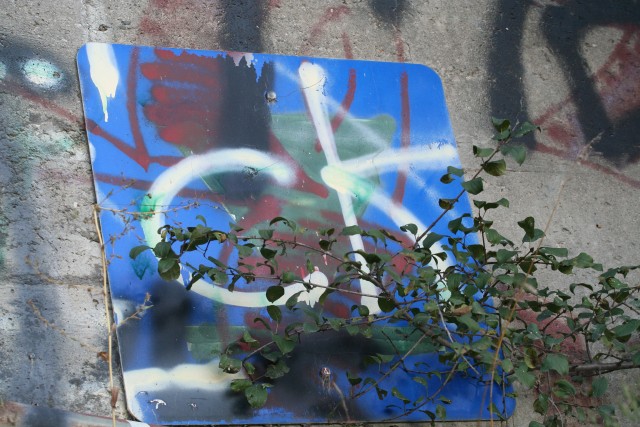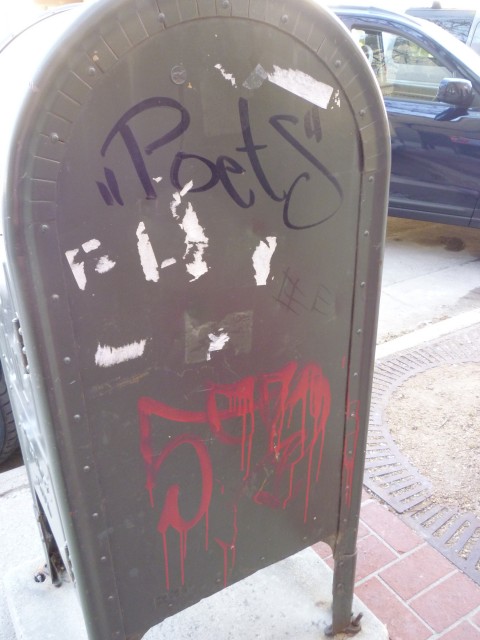 Now, I am someone who frequently finds graffiti weirdly beautiful and strange and incredibly creative. On the other hand, a little (even of the very best) of this freelance civic expression goes a long way; too much tips the landscape in a broken windows wasteland, an appearance of neglected and shattered hopes.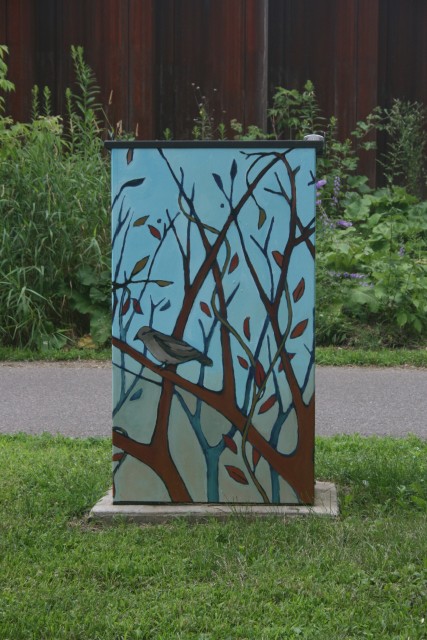 In Minneapolis, there is a new program to expand public art by local artists that captures the spirit of the city, beautifies baldly utilitarian surfaces, and deters vandalism. If you drive along Lake Street toward the Mississippi River, you'll spot several examples. More can be found in other neighborhoods. These public art pieces are either painted by the artist at the site (and then coated for durability) or created by first digitizing the art, then transferring it to a vinyl wrap that is applied to the metal box. Both result in surprising and mood-lifting "art surprises" just where one least expects to see them.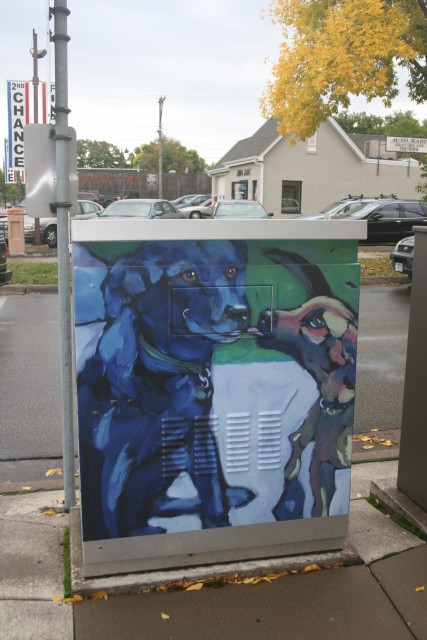 Here's a terrific example: isn't the symphony of blues a marvelous contrast to the golden leaves this week? What will it be like next to the snow of December? Now look a little bit closer: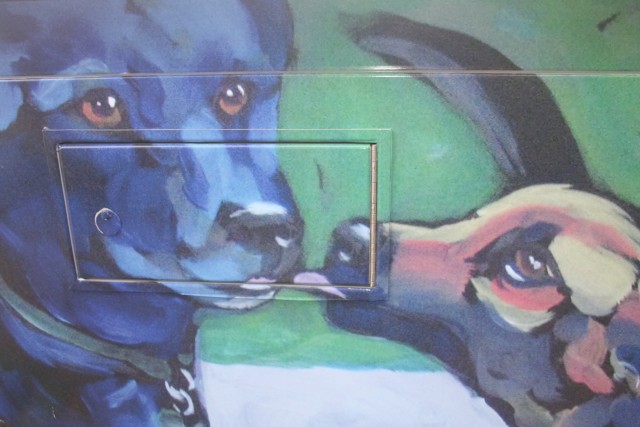 I love the sweetness of the eyes of each dog. And I am so pleased that there is room for the work of two artists, front and back, along with their names, photos, and brief statements, as you can see below: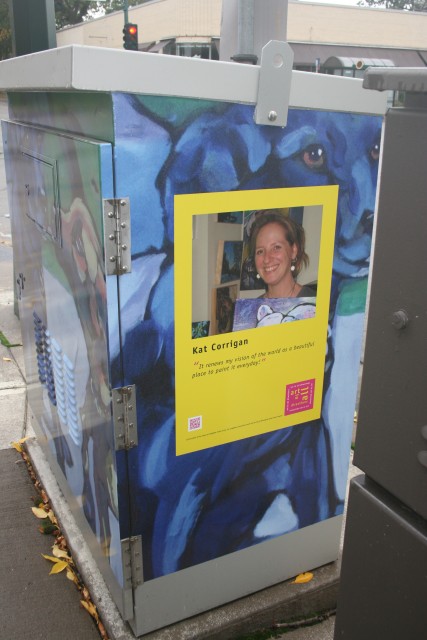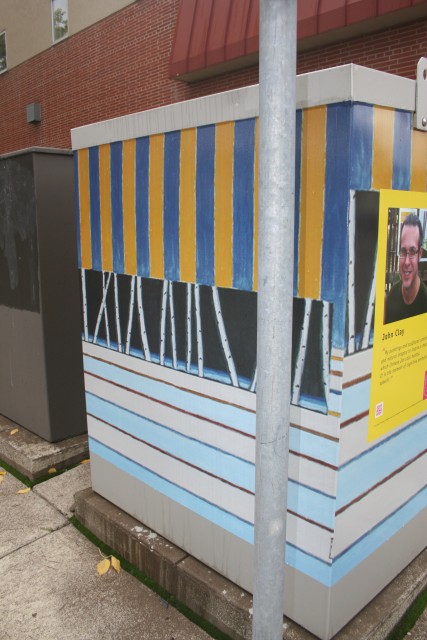 Below, a vivid close-up of a flower contrasts with a burnt-out building.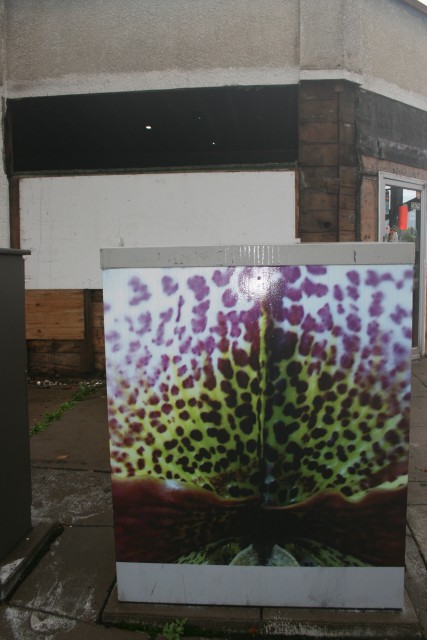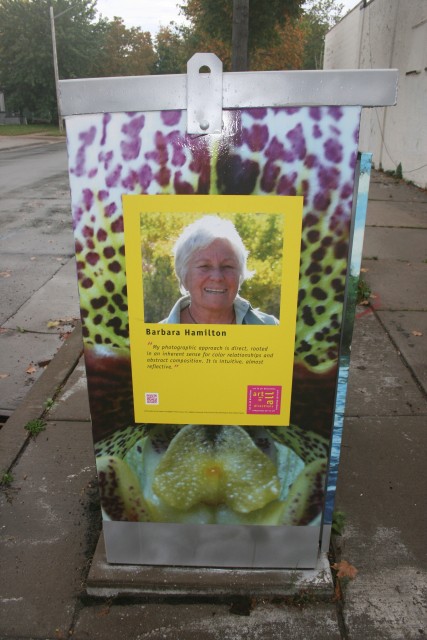 Farther afield, in beautiful San Jose, California…
Last year, Tim and I travelled to San Jose. We stayed right downtown, at the historic Sainte Claire Hotel. Both of us were wowed by the friendliness of the people, the number of cultural institutions (and great food!) within walking distance, and the absolute abundance of public art, from murals …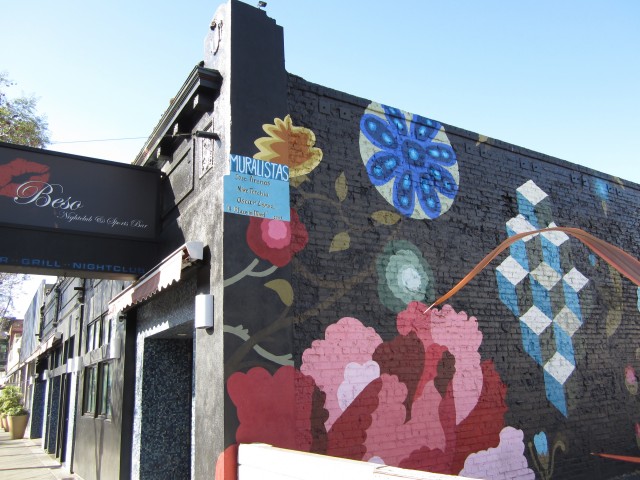 to mosaic tiles…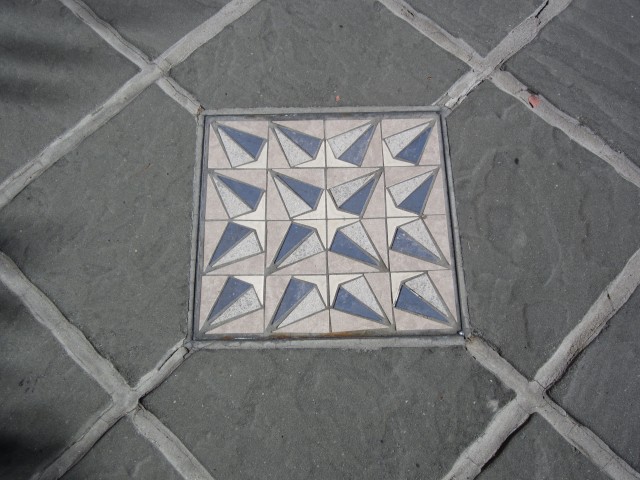 to whimsical sidewalk chalk…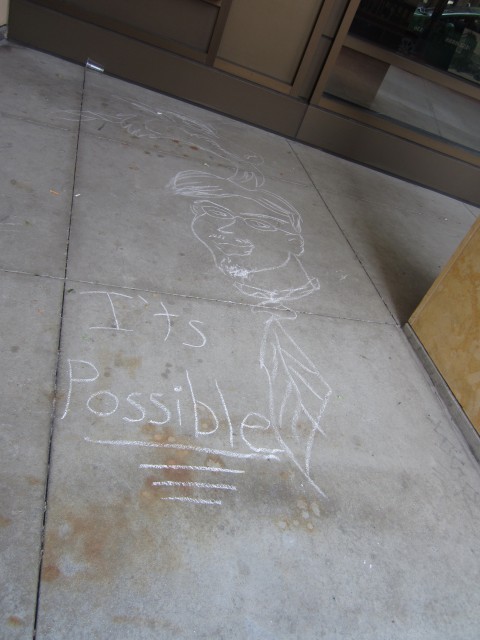 The form that most captivated me, however, was the way the city had partnered with young high school artists and local businesses and organizations to transform blandly ugly service doors into portals into other realms through one-of-a-kind art.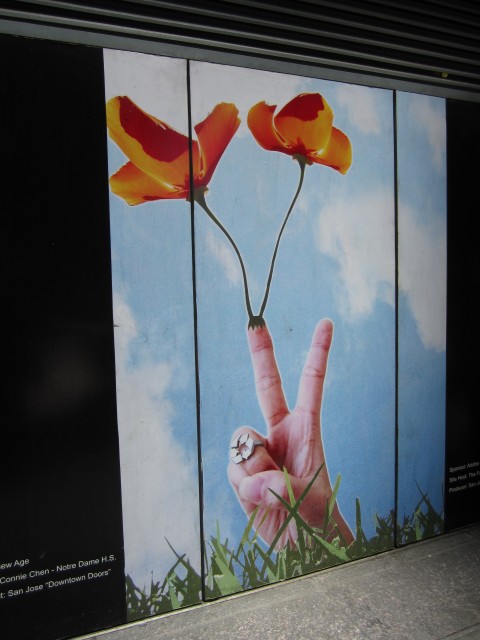 According to Rick Jensen, Communications Director of the San Jose Downtown Association, the non-profit that launched the Downtown Doors project in 2003, it received national recognition last year. In 2012, the National Endowment for the Arts gave the project a $25,000 grant from the NEA, and it also won the International Downtown Association Award for public place-making in 2012. (And the award was received by them in …. Minneapolis!…. last September.)
Rick's email informed me that, "The Washington, D.C.-based International Downtown Association (IDA), a champion for vital and livable urban centers which strives to inform, influence and inspire downtown leaders and advocates, gave its highest Pinnacle Award to SJDF in the category of Public Space, "recognizing capital improvements that enhance the community's urban design, physical function or economic viability."
"The San Jose Downtown Foundation's project received this prestigious award for demonstrating excellence in downtown management," said David Downey, IDA President and CEO. "Each year the IDA honors the very best programs and projects in each category to recognize great work and most importantly to set the standard for best practice in our industry. Downtown Doors is a wonderful example for all downtowns to emulate."
"In awarding Downtown Doors a $25,000 ArtWorks grant,National Endowment for the Arts (NEA) Chairman Rocco Landesman spoke directly to the essence of the Downtown Doors program:  "The arts should be a part of everyday life.  Whether it's seeing a performance, visiting a gallery, participating in an art class, or simply taking a walk around a neighborhood enhanced by public art, these grants are ensuring that across the nation, the public is able to experience how art works.""
With 25 new doors serving as the canvas for 25 new young artists in 2013, the City of San Jose now has 80 showcases for imagination. For a map of locations and thumbnails of each unique design, please click here.  I love to think about the young people who were in grade school when the program began and had work accepted this year; similarly, I wonder where life has taken the original cohort of artists.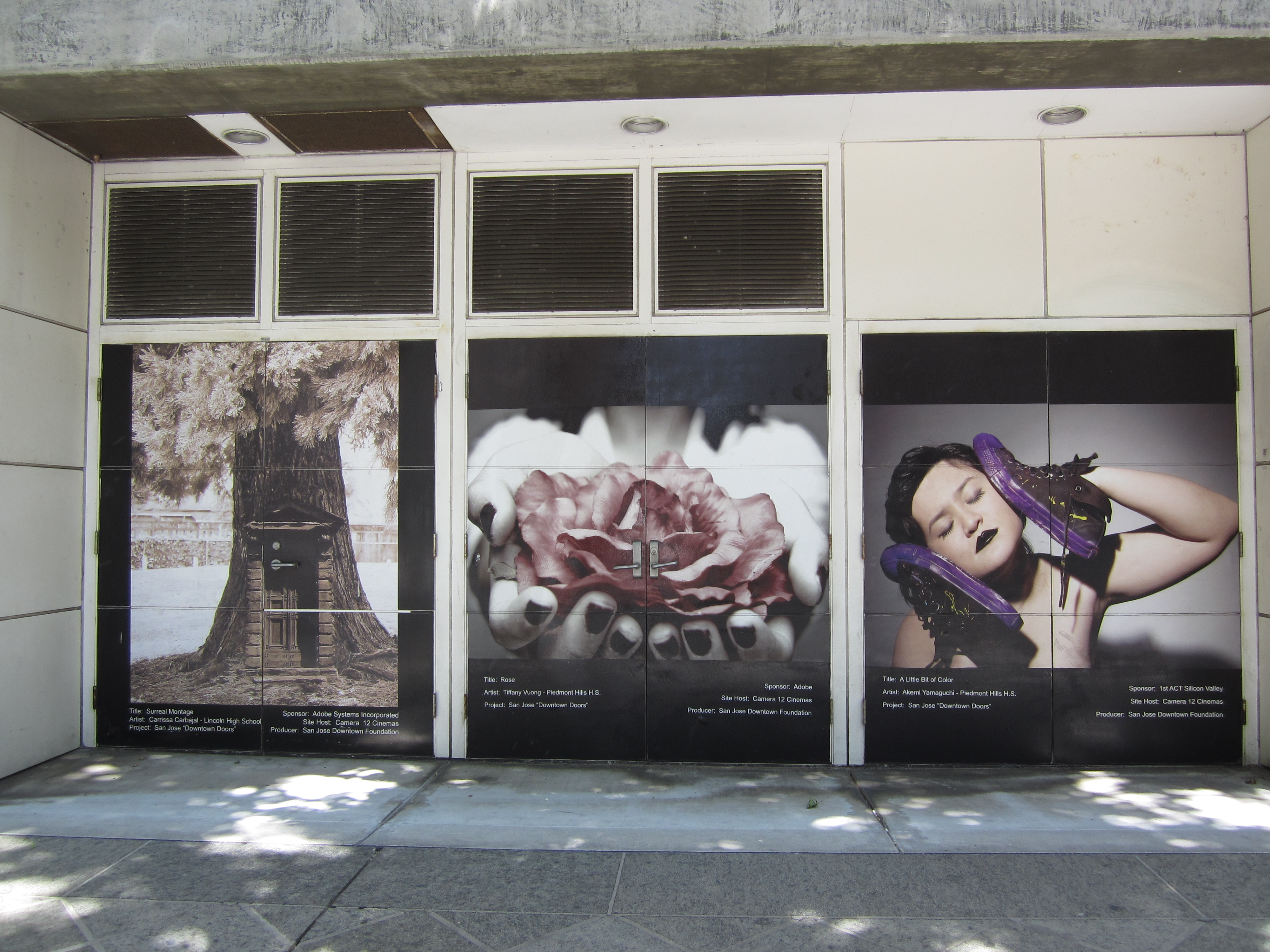 I know on a much smaller scale, from working with others in Northfield on public art projects, how much care and idealism, how many hours and meetings, go into a project like this. So today, I would like to salute these two major cities for their ongoing and inventive commitment to bringing people together through art.
If your town or city has a program that lifts your heart around public art, please let me know!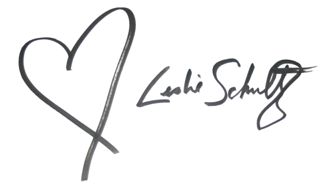 Thank you for reading this! If you think of someone else who might enjoy it, please forward it to them. And, if you are not already a subscriber, I invite you to subscribe to the Wednesday posts I am sending out each week–it's easy, it's free, and I won't share your address with anyone!